Intro
I have never been good at any rhythm based music video games. My sister kept going on about how fun Guitar Hero was, but I couldn't see myself doing well with that game either. During our big family vacation though she brought Guitar Hero and Rock Band and once I realized I could play along with Rock You Like a Hurricane I decided to finally give it a try. It was so much fun! I very quickly came to the decision, however, that if I was going to spend time strumming an instrument it might as well be a real one.
All my neighbors are in a band and they graciously allowed me to borrow a guitar, an amp, and a Dummies book on how to play the guitar. I found it very rewarding and after a few weeks of playing Roy's "Green Monster" guitar I decided I was ready to buy my own.
Epiphone Goth SG-400 (8/14/08)
My first guitar was an Epiphone Goth SG-400. It was apparently a clearance item at Musician's Friend and the price had been reduced from $499 to $299. I really like the look of the guitar and since I'm a big Batman fan the shape of the guitar with the twin horns really appealed to me.
Here are a few pictures of a Goth SG. This isn't my actual guitar, but it's the same model.
NOTE: I just ordered some Zakk Wylde EMG 81/85 pickups and will be installing them in this guitar. It should sound as great as it looks when I'm through.
UPDATE: The pickups are installed and they sound great!!! Definitely a worthwhile upgrade.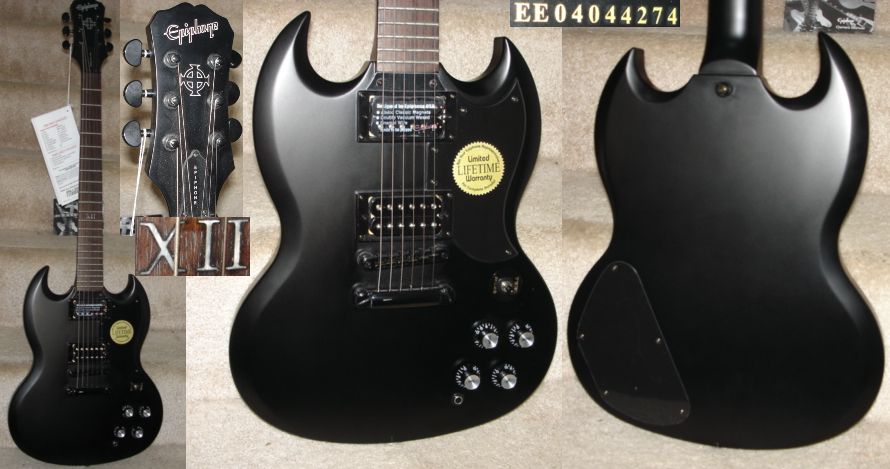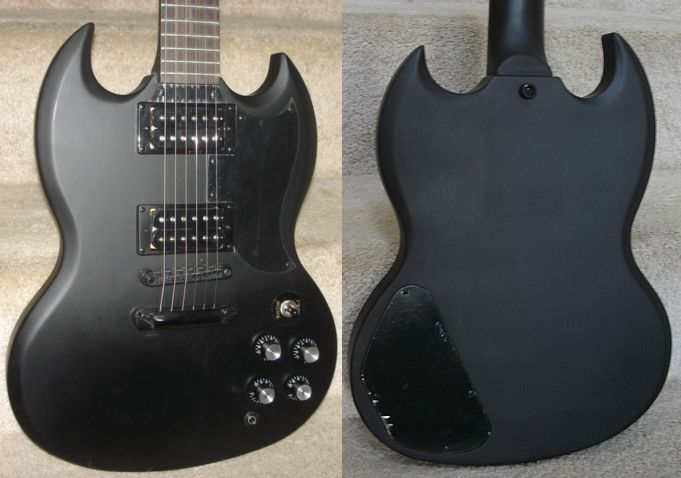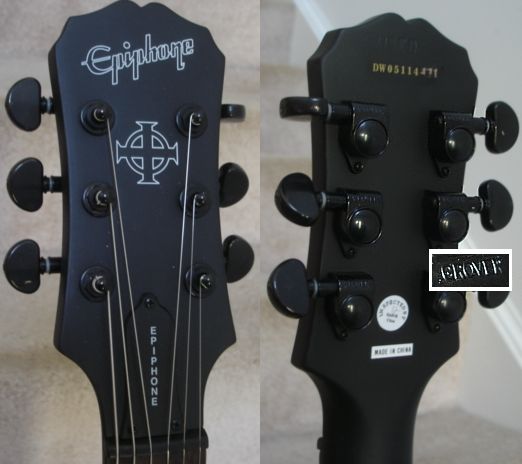 1993 Fender Stratocaster (10/2/2008) (Sold 01/2012)
I thought a Stratocaster would be a nice compliment to the SG and started looking at Fender's line of guitars. I really like the dark sunburst patterns with dark brown and orange, but my friend Mark pointed me towards this guitar at
Chris Guitars
. It's a 1993 made in Korea Strat. It's known as a "Fat Strat" because it has two single pickups and a humbucker pickup. With the 5-way selector switch you can get a lot of different tones out of it. This is my easiest to play guitar because the action is set so low on it.
Here's the original description from Chris' site: 1993 Fender Korea Squier Standard Fat Stratocaster, (front/back), (headstock). One of the better quality Squiers in my opinion, in fact, you have to look closely at the tip of the headstock to even see the Squier logo. This one has 2 tasteful mods: a red tortoise shell pickguard and, more importantly, a Fender DH-1 Atomic humbuckers, same model used on the American Deluxe Strat. Along with the two original ceramic single coils is that you get your choice of traditional Strat tones - or a fat, searing humbucker tones made for lead riffs or chunky rhythms. A look under the guard (pic here), also shows a USA 5-way switch and full size pots rather than the stock mini-pots. Overall in beautiful shape and a good Strat for the money at just $249 including Fender gigbag.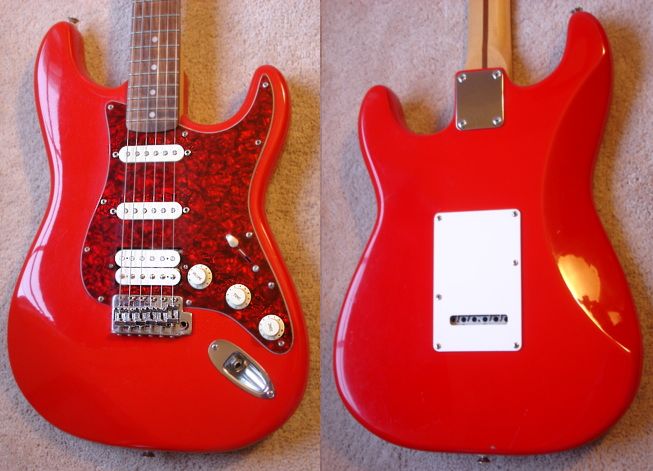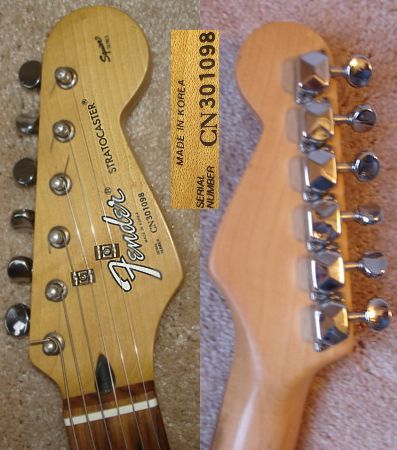 2006 Epiphone Les Paul Classic Plus (11/24/2008) (Sold 7/9/2010)
This is another fine specimen from Chris' Guitars. I was originally looking at a nice darkburst model he had for sale, but it was already snagged by someone else. I found this red model that had all the same features I wanted and it was cheaper too.
This is a nice and heavy guitar and when running through a Yamaha MagicStomp pedal with the "FatGermanFuzz" preset you get the most awesome crunchy rock tone that sustains for days! I am extremely pleased with this guitar.
Here is the original description from Chris: Epiphone Les Paul Classic Plus, (pic2), (pic3). A real stunner with wide flame that's perfectly bookmatched and another excellent deal on a B-stock, but immaculate Epi LP. All the features that have made the Les Paul Gibson's most popular and famous guitar of all time - bound body and neck, set neck construction, maple top over mahogany body, mahogany neck with rosewood fretboard, pearloid trapezoid fretboard inlays, gloss headstock overlay, tune-o-matic bridge with stop tailpiece, and quality Grover tuners to keep it in tune nicely. I've been very impressed with the quality of Epi's over the last few years and they set up as well as the average Gibson - this one's a perfect example of an imminently playable Epi LP. Other than a "used" stamp on the back of the headstock, this guitar is immaculate and first quality - good deal on a beautiful Epi for $399.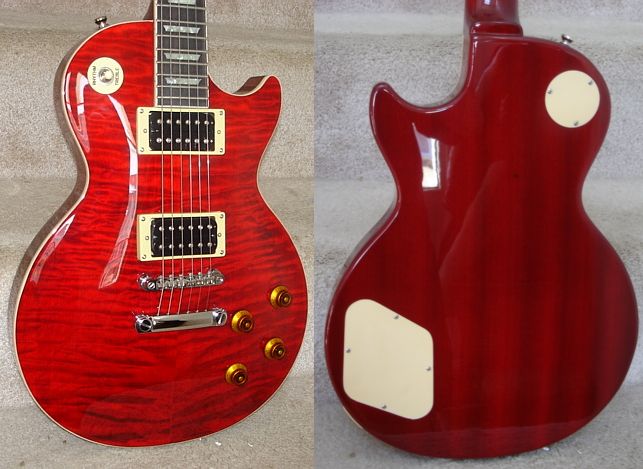 Schecter Damien B-2 (1/15/2009) (Sold 5/29/2009)
I promise I didn't set out to buy another guitar! LOL I had it in the back of my mind that I wanted a Flying V guitar, but I didn't want to spend a lot of money on one until I knew I liked the style. I had thought that when I was ready I would just get an Epiphone Demon since they're just $225 at Chris Guitars. Well, I was watching a thread on Harmony Central about killer deals and someone noticed that this had been clearanced out at Musician's Friend for $199 with free shipping. I took about two minutes to debate the decision then added it to my shopping cart. :-) I figured it was even cheaper than the Demon and had free shipping, but it was a much nicer guitar from a big name brand. Plus, it has bat inlays for the fret markers. ;-) It also has EMG pickups which sound quite nice.
Once I got a strap for it I've learned it's actually pretty easy to play. Very much so standing up, but even sitting down it's rather comfortable. The action is a little high on it and the strings are a little thicker than what I'm used to, but it still plays fine and helps with my finger strength and coordination.

Epiphone Korina Explorer (5/29/2009) (Sold 2/27/2011)
The Schecter Damien B-2 is already gone. ;-) I traded it in on an Epiphone Korina Explorer. I got it used at Music Go Round, but it came with a Gibson Dirty Fingers pickup in the bridge and a hard case. I upgraded the neck pickup with a Gibson '57 Classic.

Gretsch G5120 (6/18/2009)
Yet another great deal from
Chris Guitars
. I got this orange Gretsch G5120. It was another one of those factory seconds that doesn't appear to have anything wrong with it. It sounds so warm when played!
Gretsch 5120BK and 5120OR Electromagnetic Hollowbody, (pic2), (back). Incredibly low action - plays better than higher end Gretsches at $3500 list. Note: I just got in 2 more of these, including one in orange which sold out quickly the last time. These were never retailed, but cosmetic seconds for reasons we can't spot - they're flawless. Features include maple body and neck, bound body front and back, Gretsch custom dual-coil humbuckers, bound neck, Bigsby licensed B700 tremolo, neo-classical thumbnail inlays, clear plexi pickguard. This model sells new for $599 but these are perfect, set up better than factory, and a super buy on a hollowbody for just $450. I can include a free gigbag or new TKL hardshell case (pic here), plush maroon lining with arched top, available for $75 if desired.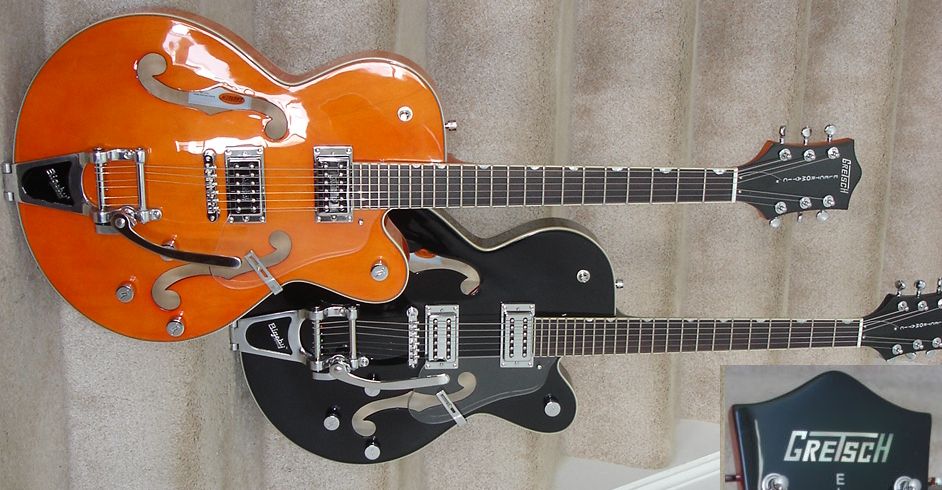 Epiphone EJ-200 (10/27/2010) (Sold 10/13/2012)
My friend Jim bought an entire pallete of Epiphone B-Stock guitars for the sole purpose of smashing them on stage at the end of his shows. He picked a few out that didn't seem to have anything wrong with them. This EJ-200 and the Dove below were both just hanging on his wall at home. I mentioned to his wife Elizabeth that I wanted an acoustic so she brought both of these in to work for me to look at. I couldn't decide which one I liked better so I bought them both! Thank you Jim and Elizabeth!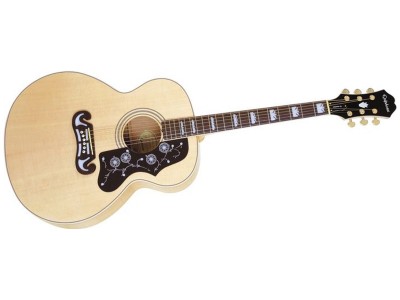 Epiphone Dove (10/27/2010)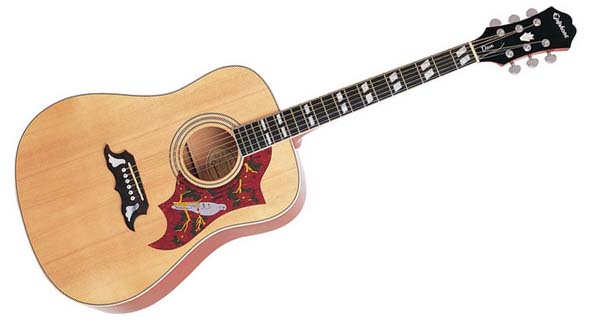 Epiphone '58 Korina Flying V (11/10/2009) (Sold 2/27/2011)
When I very first started looking at guitars I found this one on
Chris Guitars
web site. My friends advised against getting a Flying V as a first guitar so I went with the SG instead. I did eventually get a Flying V (the Schecter above), but I traded it for the Explorer. I've been missing having a Flying V so I started looking again recently. BTW, I saw Paul Stanley play a Flying V most of the night at a recent KISS concert and it made me REALLY want one. :-) I was looking at a Gibson Chris had, but decided it was too expensive and that Gibson's build quality isn't what it used to be. Then I looked at the Schecter Hellraiser V-1. It's a very nice guitar, but also pretty expensive. I've been reading a book about the history of the Flying V and I really like Gibson's very first design and this Epiphone is a faithful reproduction of that at a much better price. So, more than a year later, I bought the first guitar I fell in love with.
This is the description from Chris' site:
2005 Epiphone '58 Korina Flying V, (pic2), (pic3). Never retailed and immaculate condition - first quality Epiphone - Very cool reissue of the classic Gibson '58 Korina V. The Floyd V, along with the Explorer and Moderne, were the most radical guitars ever produced when Gibson presented them to the public in '58. Unfortunately, they were soon discontinued as the public wasn't ready for such a departure from "normal" looking guitars. Eventually though, this model became the holy grail of collectors and you could retire on the value of an original example. This one has all the looks and vibe of the original including Korina body with Mahogany neck, gold hardware, arrow-head headstock with 3+3 Kluson style vintage tuners, gold logo, and gold-plated boomerang tailpiece with Tuneomatic bridge. Also features a rubber strip on the bottom edge for ease of play while sitting down. With a list price of $832, this model sells heavily discounted to as low as $499 but this one has never been retailed and is perfect with plastic still on the pickguard, pickup covers, etc., - plus it has a setup that's puts the factory setups to shame - all for $429(Tent. HOLD-Keith H 11/10). Note: I have a used Epi V case available for $49 if desired (pic here).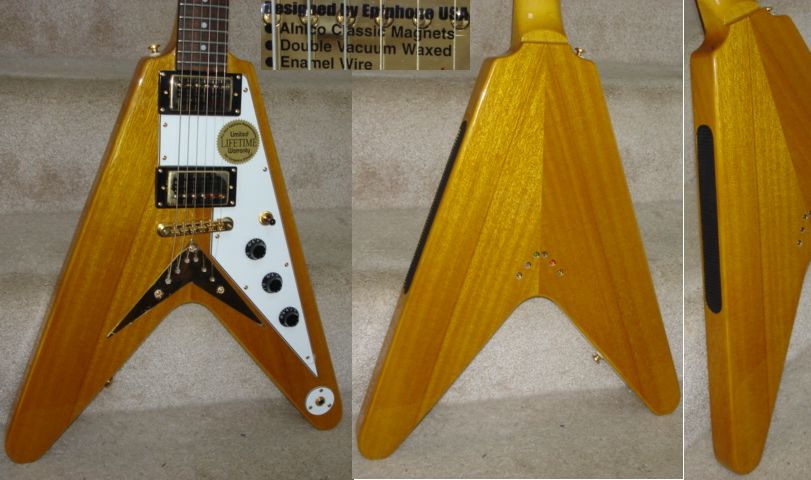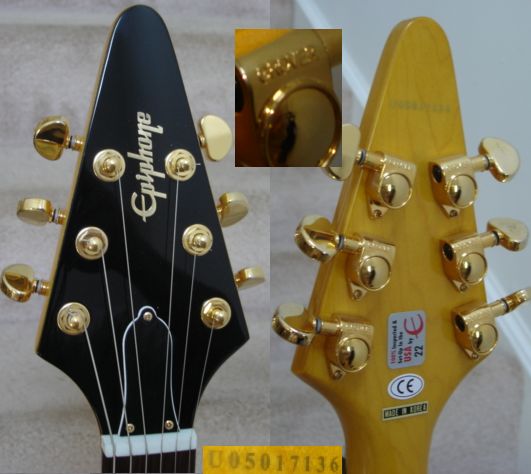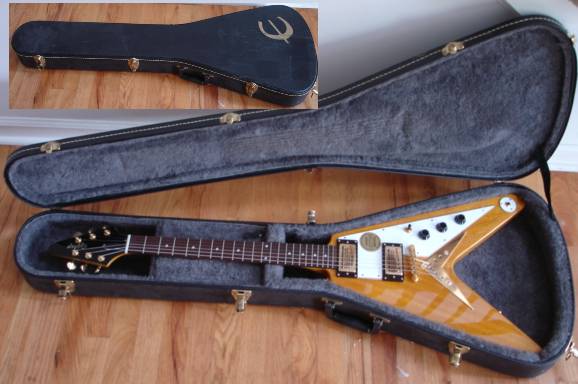 Schecter Hellraiser V-1 (1/15/2010)
OK, once I started playing the Epiphone Flying V I knew I was a Flying V guy. Way back when I was drooling over this Schecter Hellraiser, but hadn't been playing long enough to justify such a nice (and expensive) guitar. I just happened to be looking around at Amazon and noticed that out of the six models of Hellraisers available, the exact one I wanted was marked down. Way down. I had some gift certificates that I earned from my credit card so I ended up getting this guitar for less than I paid for the Epiphone!
I love this guitar!!! The finish is amazing and the EMG pickups in it sound amazing. This guitar is also wired to do coil tapping so I can get an almost Telecaster twang sound out of it. Once I got this one I pretty much stopped playing all my other guitars.

ESP V-350 (4/12/2010)
I blame Elizabeth for this one. LOL I wasn't looking for another guitar because the Hellraiser is so nice, but she sent me this pic one afternoon and I couldn't resist. This is an older model ESP, but it's the model that eventually because Dave Mustaine's signature model. He liked it a lot, suggested a few changes, and his model was born. This is essentially the same thing, but for a fraction of the price. I installed a Seymour Duncan Invader pickup in the bridge and it's just a fantastic metal shredder now. The silver finish is quite striking as well.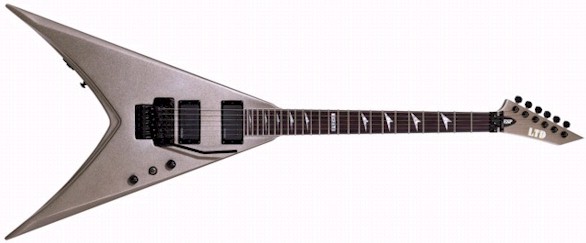 Schecter Blackjack V-1 (7/9/2010)
I love Amazon. :-) Again, for some bizarre reason they marked this guitar down. Way, way, way down. It was a 2009 model so maybe they were just trying to get rid of old stock, but since I bought this one the price has gone back up to $699. I just really caught them at the right time. This is very similar to the Hellraiser, but it has Seymour Duncan pickups in it so I get a different tone than the more metal EMG pickups. This one also does the coil splitting. The playing cards at the 12th fret are just too cool.
NOTE: I sold the Epiphone Les Paul above to pay for this one.
G&L S-500 Swamp Ash (9/1/2010)
I decided that I really wanted a guitar hand made here in America. I thought about saving up for a Gibson SG. I found a used one at a great price on Chris Guitars web site, but someone beat me to it. I started looking around Chris' site and found this. I've wanted a sunburst guitar for quite a while so this actually satisfied several cravings.
G&L S-500 Swamp Ash, (front/back), (headstock), (case/cert.). A real beauty with optional "Premier Finish" 2-tone sunburst over swamp ash, plus vintage-tinted gloss neck finish. The S-500 is sort of a Super Strat and features a trio of G&L's Magnetic Field single coil pickups controlled by a 5-way selector and mini-toggle that allow any combination (including neck/bridge and all 3), G&L Dual Fulcrum tremolo with chrome plated brass saddles, flat 12" radius, 1 5/8" nut width, G&L tuners, and G&L's PTB system which allows you to cut bass and treble separately rather than a single "tone" pot. When Leo Fender went on to form G&L, he used his 50 years of experience refining the Strat in designing these guitars and I think that most players would pick this S-500 over an American Strat Ash in a shootout, in both tone and playability. This guitar is in pristine condition, other than minor pickguard scratches, but not a hint of player's wear or use otherwise. Compare this to an American Ash Strat, for comparable money, and you'll be getting a much better guitar at $899. Includes G&L case, certificate, hang tag, etc.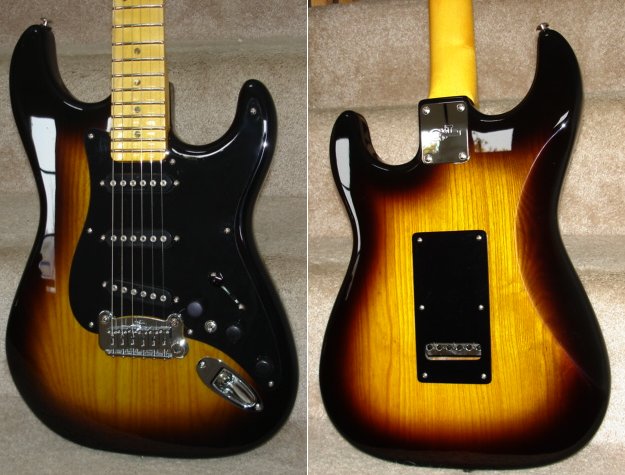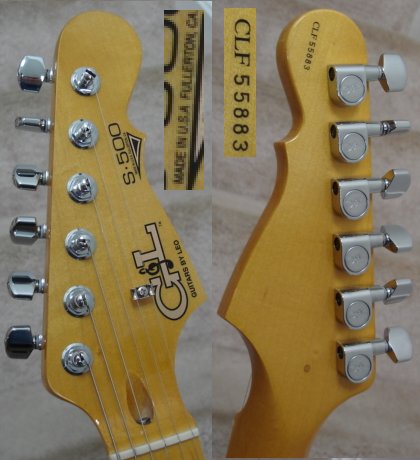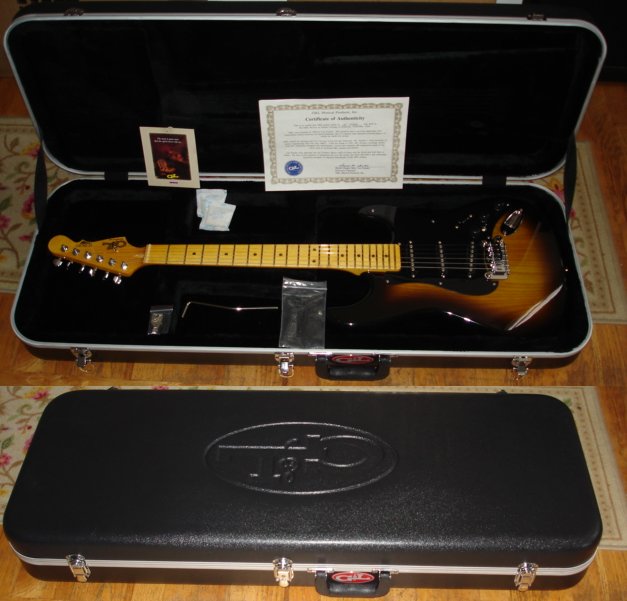 Schecter Raiden Elite-4 Black Cherry (12/17/2010)
I was so proud of myself for not buying a new guitar for Christmas. But I bought a bass instead! LOL I had kind of toyed with the idea of getting a bass for a while. Our band, unfortunately, is breaking up because our drummer, Dean, is moving to SC for a great new job. Roy and I decided that it would be a good idea to take the bass speaker cabinet he'd been using at Dean's and put it at my place. Roy then also let me borrow a Gallien Kruger RB400-III head. Since the amp and speakers were taken care of I figured I should get a bass now. I had always thought I'd get a Schecter Stiletto Custom-4, but Amazon had the very similar Raiden-4 for quite a bit cheaper. The Stiletto-4 and Raiden-4 both sell for $549, but the black cherry Raiden-4 was on sale for about $350. I had Amazon gift certificates I had earned from my credit card company and that brought the price down another $50. So I ended up with a really nice Schecter bass for about $300. Not bad at all!!!

Dean Michael Angelo Batio MAB2 Aviator (12/30/2010)
So much for not buying a guitar for Christmas, but let me explain! I found this guitar a while ago and, even though I generally don't like guitars with graphics on them, this one really appeals to me. It's got great pickups, a real Floyd Rose tremolo, and includes a hard shell case. I added it to my Amazon wish list just so I could drool over it from time to time, but at $1200 that's more than I want to spend on a guitar. So I'm looking over my wish list after Christmas trying to decided what I should spend my gift cards on and I notice the price is not being displayed and I have to "See price in cart". I click on that and am very surprised to see that it was about $680. That's almost half off!Very tempting, but I resisted the urge to buy it right away. Later that evening I refreshed the page and checked the price again and it was now $664.76. Subtract even more for my gift cards and it was just too good to pass up! Add to cart, check out, and start refreshing the UPS Tracking page every few minutes. LOL The funny thing is that right after I ordered it I shared the link on a Harmony Central forum about great deals so that others could take advantage of this greatly reduced price. As soon as I posted my message I tested the link I included and the price was already back up to $978. I don't know what was going on at Amazon, but yet again they marked a guitar way down and I was able to jump on it. Thank you Amazon!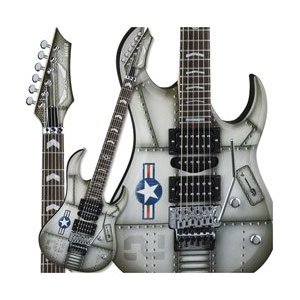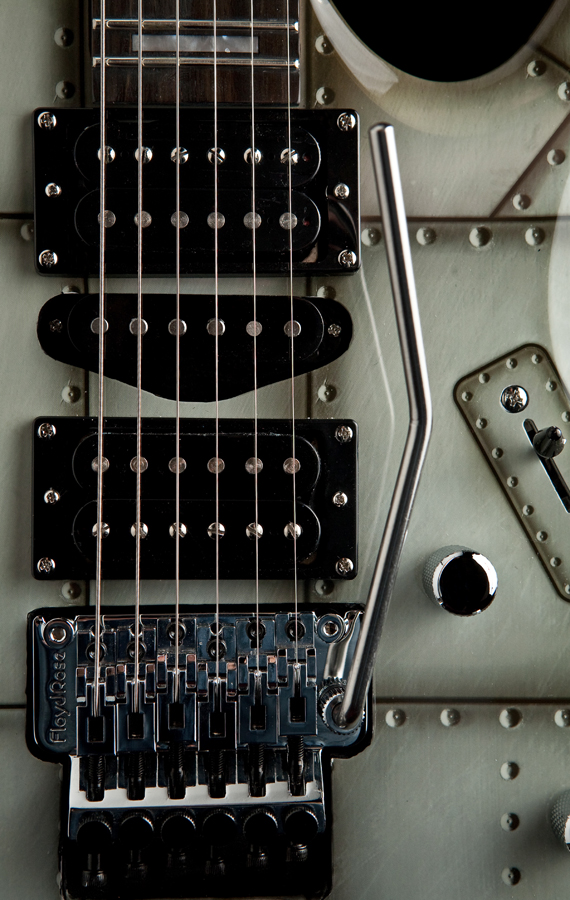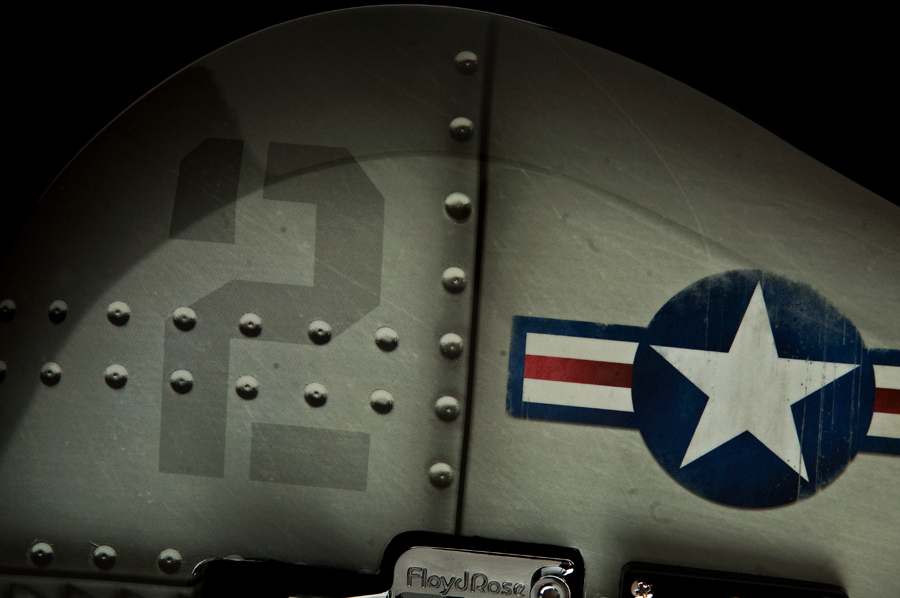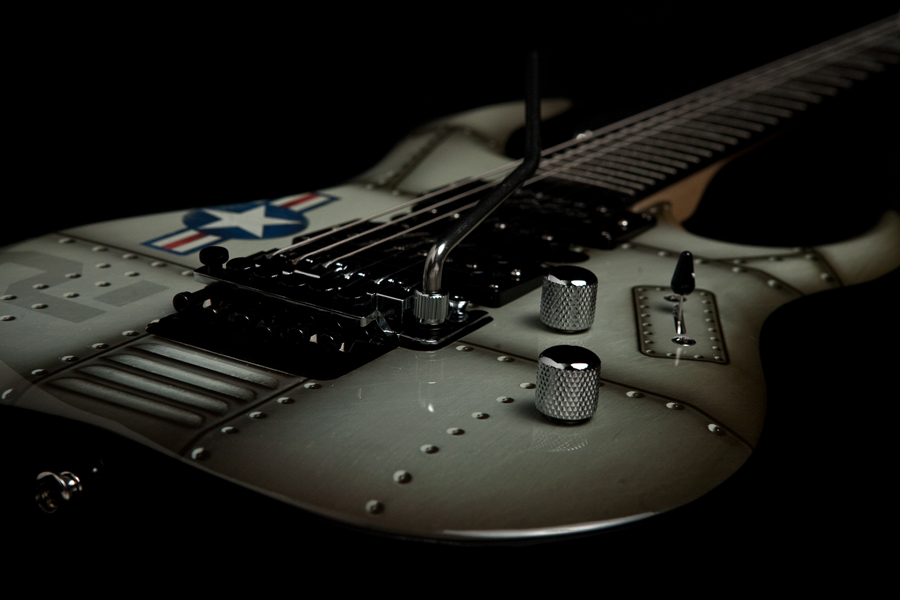 Gibson SG Standard (2/27/2011)
I finally bought a Gibson. This was at Music Go Round and I traded in the Epiphone Explorer and Epiphone Flying V for it. When I got it I told myself I'd leave the original pickups in it for a while, but within just a few weeks I had already replaced them with DiMarzio
Super Distorion
and
Air Norton
pickups. This guitar is now, by far, the best sounding guitar I own.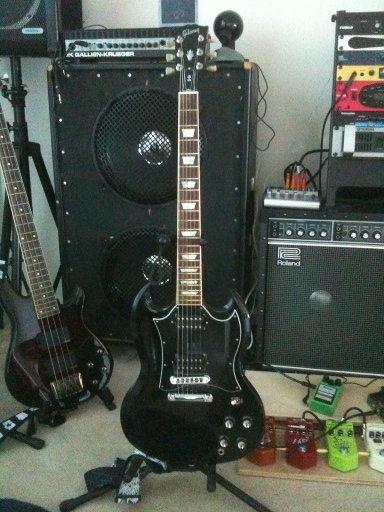 Jackson RR5FR (5/1/2011)
This was a Musician's Friend Stupid Deal of the Day. They were blowing these out for $399, including a hard shell case. The neck on this thing is amazing, and even though it's made overseas the fit and finish is excellent.

Dean - Dave Mustaine Rust in Peace (8/18/2011) (Sold 4/29/2012)
Yep, Amazon again. I didn't need another guitar, and didn't even really want another guitar, but just like with the MAB2 they kept dropping the price again and again until I just couldn't resist. The Dave Mustaine Livewire pickups in this thing sound great.

Dean - Dave Mustaine Zero (10/13/2011)
Exactly the same as the VMNT above, just with a different body. It's got that awesome Explorer shape, but not the weight. Very comfortable to play.

Squier - Vintage Modified Telecaster (12/2/2011) (Sold 8/3/13)
Everybody should own a Telecaster. ;-) This was on sale and I had gift certificates. Started replacing the hardware, ran into a wiring issues, and unfortunately haven't touched it in months.

Schecter - Damien Special (12/29/2011) (Sold 8/3/13)
This is an Amazon exclusive that even at its regular price is quite a deal. At Christmas the price dropped quite a bit, yet I still resisted. But then those that couldn't resist started posting reviews online of what an amazing guitar it was. I caved. I'm glad I did. This thing has a nice deep and heavy tone like a Les Paul. Plus it looks absolutely gorgeous.

Schecter Raiden Elite-4 Tobacco Sunburst (6/10/2012) (Sold 8/27/13)
Well, I originally wanted the orange bass, but it was the red one on sale so I got it instead. Then of course Amazon marks this one down later. ;-) This one was primarily purchased for its parts. Roy wants to make his own instruments and we thought starting with a bass might be easier since everything is bigger, and there are fewer strings. LOL
Jackson - Soloist Elite (7/4/2012)
I sold my motorcycle, had some extra cash, so naturally I bought a guitar! LOL
Alder Body with Limited Amber Burst Finish
Made in Japan - Factory Special Run - Limited availability
Dual tone controls and three-way pickup selector give you lots of tonal options
Maple Quartersawn Neck with neck through design with Ebony Fretboard
Sporting a recessed, original Floyd Rose tremolo
Many more high resolution pictures can be found at
Sweetwater
.

Gibson - Flying V (9/26/2012)
I am clearly a Flying V guy, and always wanted to own one made by the orignator of the model, Gibson. I also didn't want it to look and sound like every other Flying V out there so I had some work done. First, the tuners were terrible so I replaced them with Sperzel locking tuners. I replaced the pickups with a DiMarzio Super Distortion (bridge) and PAF (neck). I replaced the boring white plastic with mirrored items, and added a Punisher decal between the pickups. Finally, I replaced the top hot knobs with speed knobs.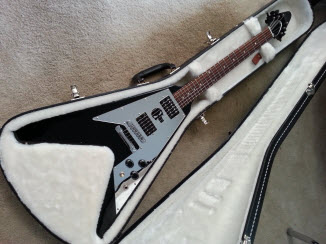 Fender - 2009 Special Edition American Standard Telecaster (10/13/2012)
I had an extremely good day at Music Go Round. I sold an acoustic to a friend, and then traded in lots of old gear to Music Go Round. I walked out with this and only paid about $260. :-)
I believe it is a
2009 Special Edition American Standard Telecaster
and the previous owner added the third Strat pickup to turn it into a Nashville Tele. There's also an additional circuit wired into a push pull pot on the Tone knob.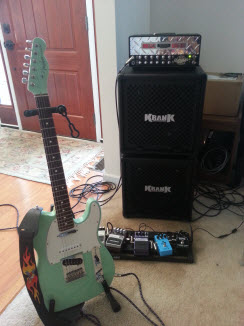 Schecter - Blackjack ATX Solo-6 (12/13/2012)
This is Schecter's version of a Les Paul. Nice heavy body, active pickups, and the matte black finish with antique binding just looks amazing. I've ended up liking this guitar much more than I originally expected and it's become the one I grab the most lately. This was another amazing Amazon deal. I got it for more than half off!!! If I ever decide to sell this one I'll definitely make a profit.

Taylor - 2006 GS6 (3/11/13)
I have enough electric guitars. I really do. :-) But I wanted a nice acoustic. I was in the earliest stages of looking and had only decided I wanted a Taylor. A friend dragged me to Maple Street Guitars on the way to lunch and I fell in love with this beauty. It was used, but looked brand new. The price was amazing as well. It has a sitka spruce top and big leaf maple backs and sides. the maple is dyed amber. It has a brighter tone due to the maple, but it sounds great. It's definitely helping my playing too because I have to push down harder on the strings, and any mistakes are much more prominent.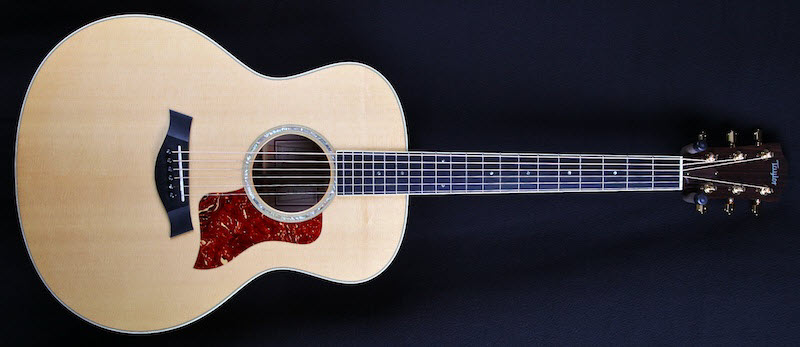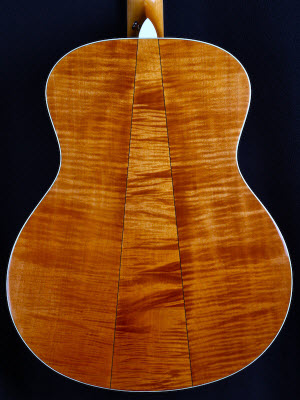 Gibson Rudolf Schenker Flying V (7/18/13)
Let's see. I love The Scorpions and I love Flying V guitars. This was therefore a no brainer. Also, unlike the stock Flying V I bought last year this one has great tuners and my favorite Gibson pickups already installed. I didn't think I'd need to change a thing, but honestly when I first got this I didn't like playing it that much. I ended up just putting a fresh set of strings on it and now it handles like a dream.
More info at
Gibson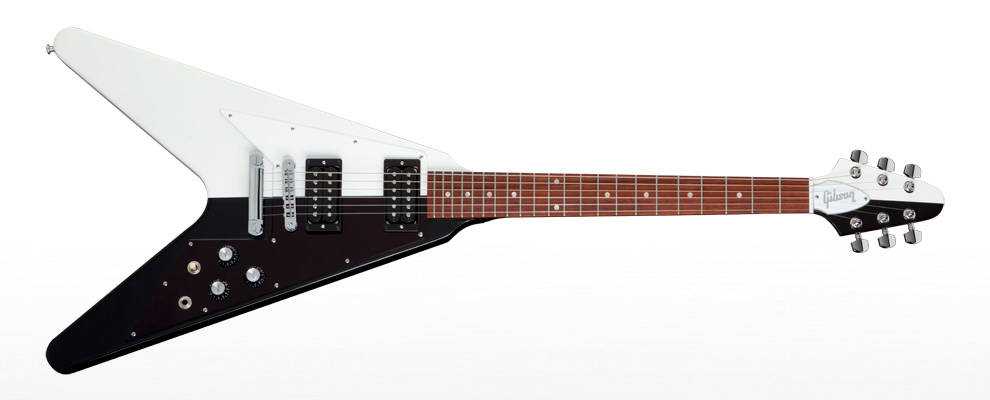 Gibson Flying V Bass (7/25/13)
I've really been enjoying my Schecter bass, but thought it would be nice to have a short scale bass too. This was apparently a limited edition that Gibson came out with a few years ago and no one bought it so all the online retailers dropped the price on it quite a bit. Then add in credit card points, birthday money, and the sale of my orange Schecter bass and this became very affordable. This has the same pickups that come stock on a Thunderbird and they sound fantastic. The neck is nice and skinny and just a joy to play.
More info at
Gibson

2013 Gibson SG Standard Natural Burst (11/26/13)
Year end Gibson blow out price reduction along with lots of Amazon points is how I ended up with this beauty. It also came stock with '57 Classic pickups which I love. Pictures don't do it justice, but the natural wood grain and rich orange color are just beautiful. I am very pleased with this guitar.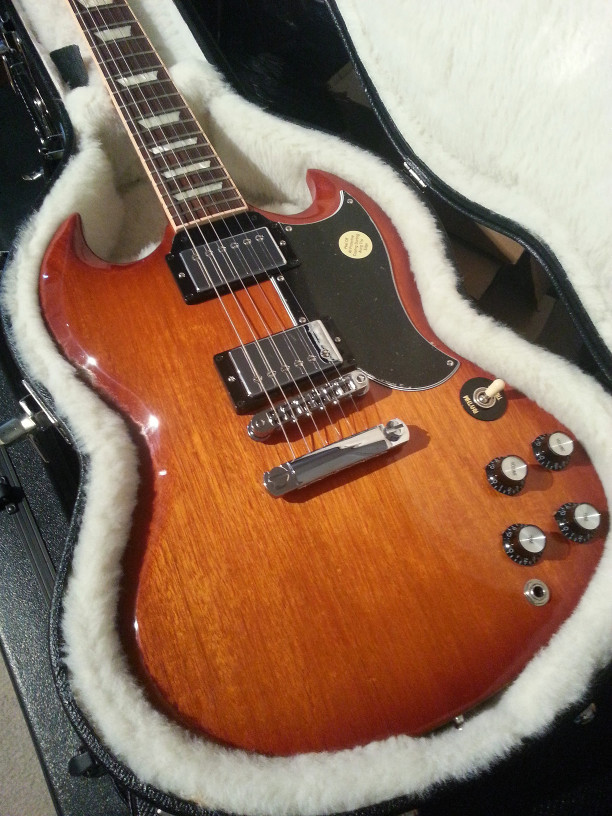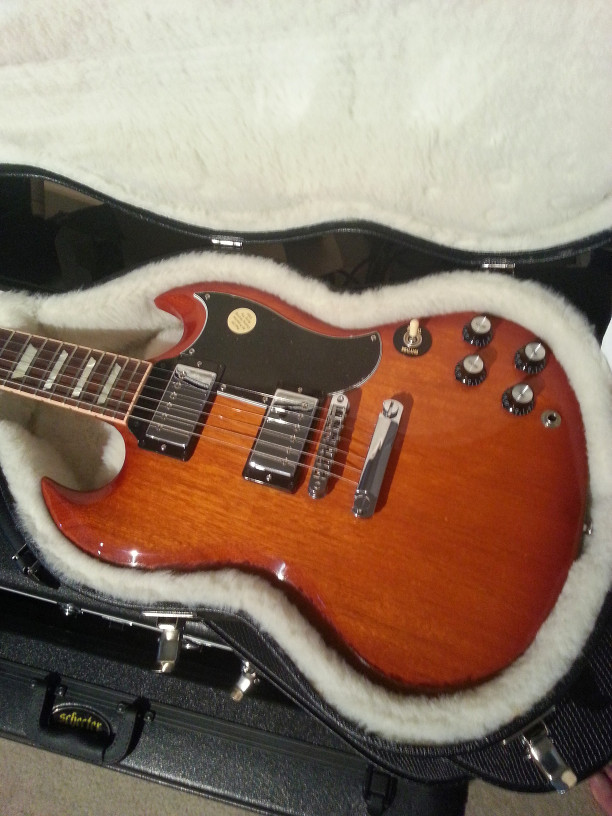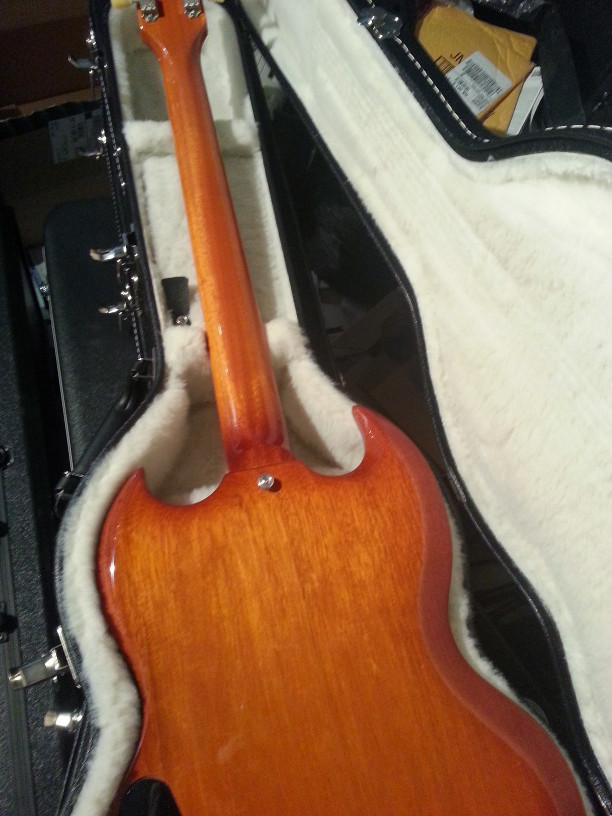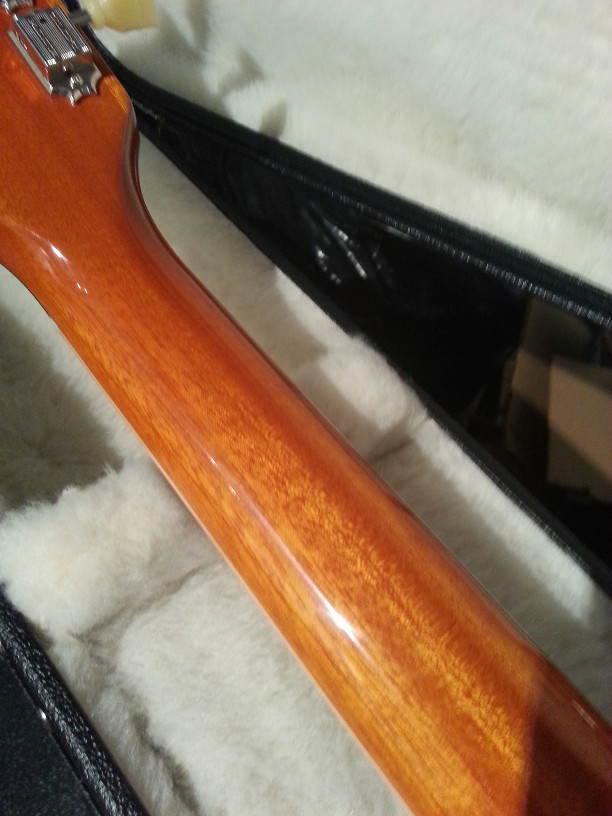 ESP LTD ST-1 (4/10/2014)
My one and only guitar purchase in 2014. ;-) ESP makes some really nice guitars, and for years their premiere line was manufactured in Japan. For whatever reason ESP decided to rebrand their line and the exact same guitar made in the exact same factory is now called a ESP E-II ST-1QM, and the ESP logo was removed from the headstock. The year before the same guitar was known as the LTD Elite ST-1. That's actually the model I purchased because since it was so "old" I found one on ebay for about half of what the new ESP goes for. Again, it's the same guitar with the only difference being the decal on the headstock. This is a beautiful superstrat with a HSS pickup configuration and a Floyd Rose tremolo. It has an alder body, quilt maple top, and a maple neck and fretboard.
For a
Guitar World
video review click
here
. Here's a
Youtube
review.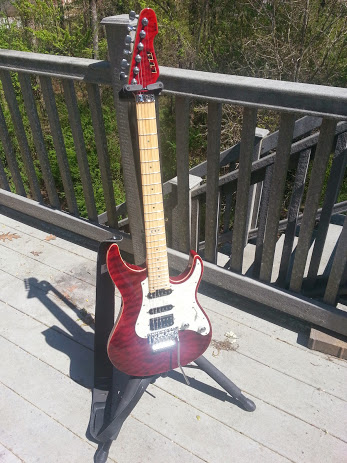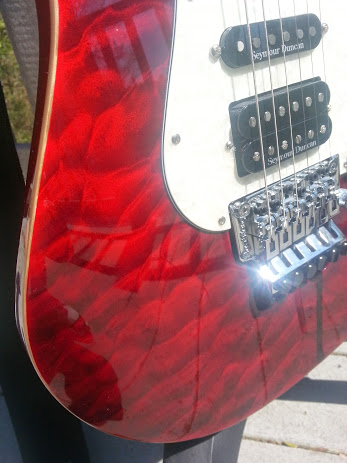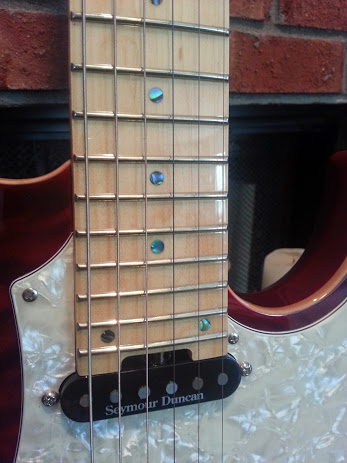 1997 Gibson SG Special (1/1/2015)
I'm starting 2015 off right! LOL I am clearly a Flying V guy, but SGs are a close second. I prefer an ebony fretboard and that is a rare option for Gibson. I found this beauty at Chris Guitars and love that it comes in a bright red color. I'll leave it as is for now, but I already have several mods in store for it.
1997 Gibson SG Special - Cardinal Red with Ebony Fretboard and EMG's, (front), (headstock), (back), (ebony board), (case). Bang for the buck winner in the SG line. The SG Special provides the classic SG tone, but without the cosmetic features of a Standard, it's a better bargain. It features an un-bound neck, dot inlays, screened logo, and uncovered pickups, but is otherwise the same guitar. Its all mahogany construction with unmistakable beveled edges gives it that classic silhouette and warm SG tone that has helped define the sound of rock, most notably with Angus Young. This guitar is part of Gibson's "All-American" series, which Gibson promoted in the late 90's and is identifiable by the USA flag on the back of the headstock. One of the nice features of this guitar is the ebony fretboard, usually reserved for higher end guitars such as the Les Paul Custom. Ebony was hit or miss on SG's during this timeframe and from my experience, more were made with rosewood. The lightweight, thin body, and deep cutaways make it one of the most comfortable guitars to play. Pickups have been upgraded to a new set of EMG81's (link), which is EMG's highest output pickup. Other features include 22-fret neck, dot inlays, 1-11/16" nut width, 24-3/4" scale, ABR-1 bridge, stop bar tailpiece, 5-ply pickguard, vintage-style Gibson Deluxe tuners. The neck is well rounded and more chunky than the '60 thin taper, but not as chunky as a 50's style. There are some cosmetic flaws but nothing horrible and no cracks or repairs. Overall it's seen very little playing time as it has perfect frets and no wear in the usual areas. The only other mods are cosmetic, including amber knobs and a cream pickup selector ring. For more info click here for Gibson's site. Don't confuse this with the faded series - this gloss finish model lists for $1665, $500 more than the Faded SG, plus neither comes in a gloss red finish, which was discontinued years ago. If you're looking for a real SG and not worried about a few minor cosmetic flaws, you can save big time on this great playing used one. $650 includes Roadrunner featherlight case which provides excellent protection, without the weight of a standard hardshell. (Note: I have another of these in Black, also with EMG's, on my Gibson page).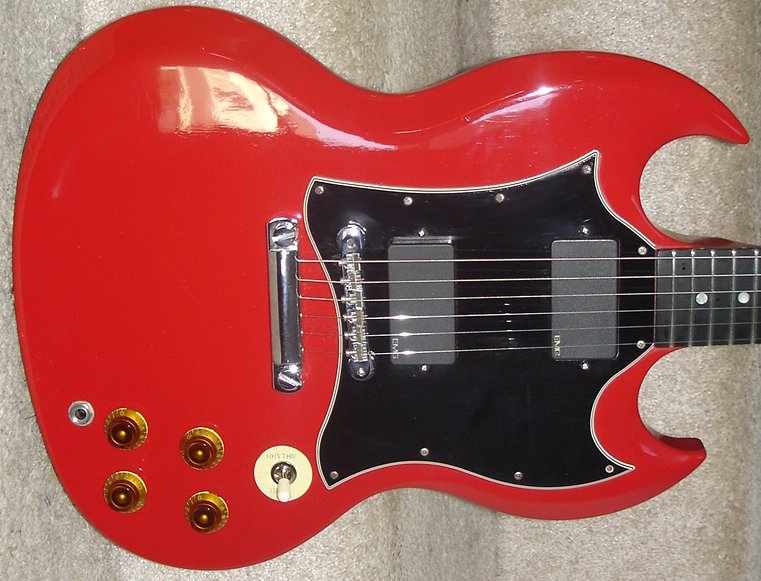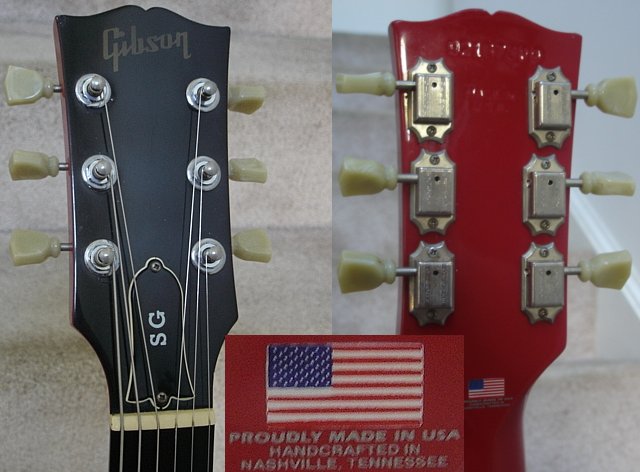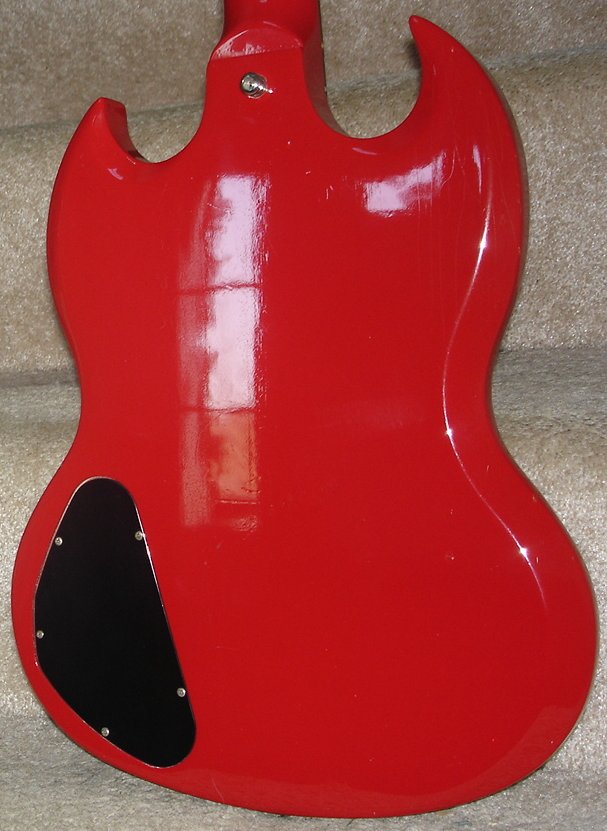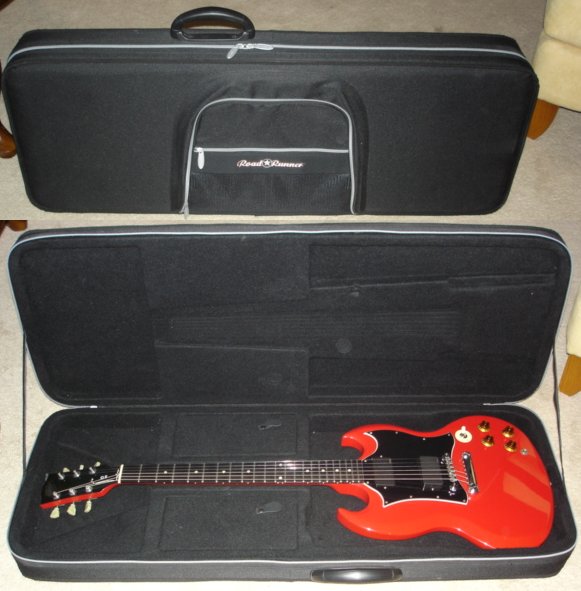 2011 ESP Horizon HRF NT-II (3/19/2015)
Quite some time ago I had a dream about finding a bright red guitar with an ebony fretboard at a guitar shop (in the dream it was a Flying V) and I've been searching for something like it ever since. I thought the red SG above would have scratched that itch, but finding this gorgeous ESP used at Chris Guitars was just too good of a deal to pass up. I sold the Schecter ATX Solo-6 to help pay for this. I don't miss that Schecter at all now that I have this beauty. 2011 ESP Standard Series Horizon HRF NT-II, (front), (back), (headstock back), (case case2). High end Standard Series from ESP and one of the best looking rock guitars you'll find. With multi-ply body and headstock binding, bound neck with notched block inlays, ebony fretboard, and incredible quilted maple top, it's definitely a head-tuner. Best of all, it plays as well as it looks and with a pair of active Seymour Duncan Blackout humbuckers, it's an excellent choice for rock or other types of music where you want clarity and high output from your guitar. Using the classic formula of a mahogany body topped by a maple cap, it's delivers the perfect blend of warmth and crispness. Other features include smoked hardware with Gotoh tuners and Gotoh TOM bridge/tailpiece, 24 extra jumbo frets, thin U neck shape, 25.5" scale, and strings-thru-body. These sell online for $1799, but it's hard to find them with the Standard ESP inlaid logo like this one; most have the newer E-II logo which doesn't even identify it as an ESP. Strange move ESP. Offered in flawless condition -- could be sold as new -- and a smoking deal on one of the nicer quilt top Horizons you'll see.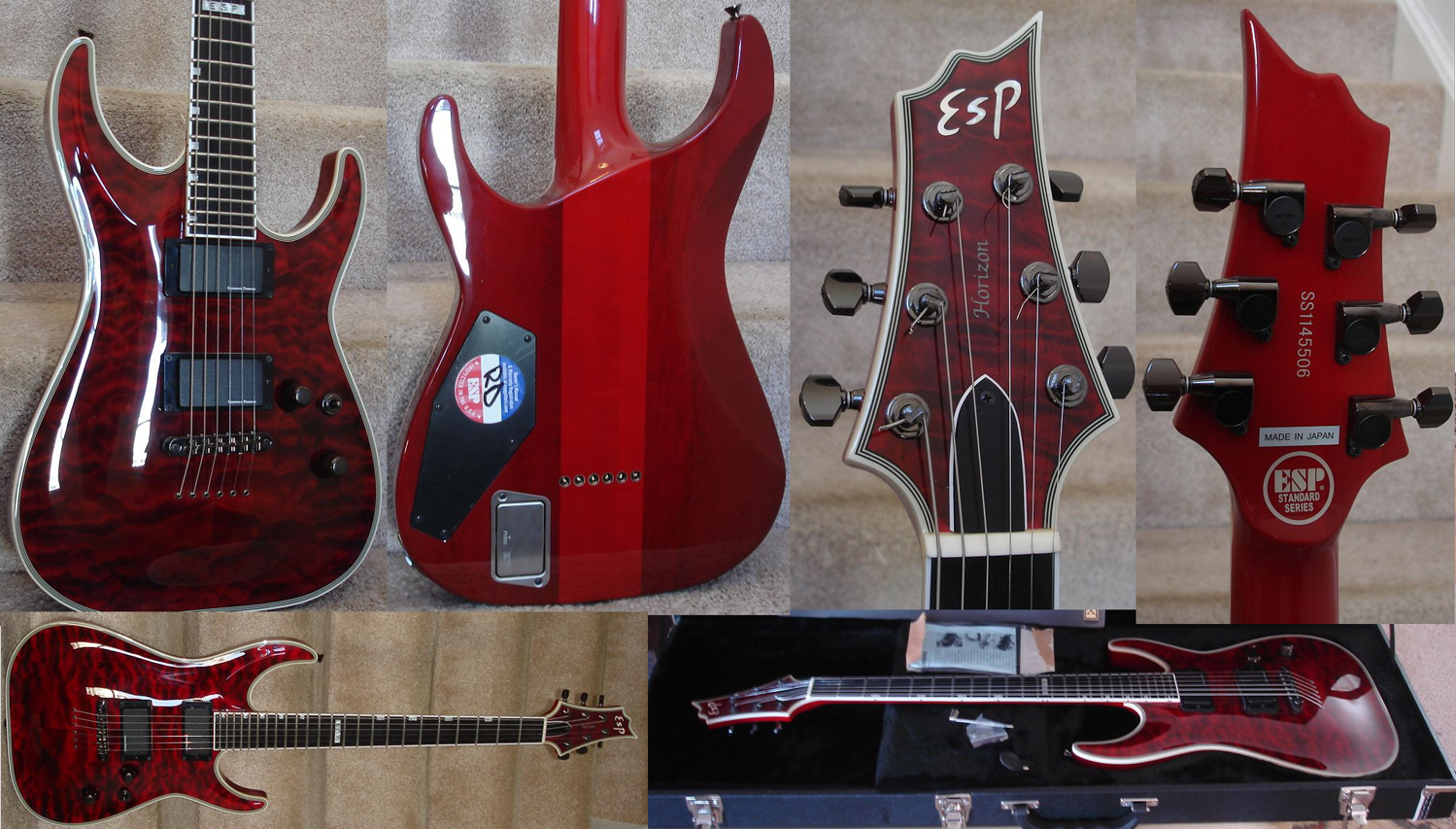 Peavey Predator (9/17/2015)
This is definitely a case of "play the guitar that speaks to you and ignore the price and the logo on the headstock". My buddy Mark bought this and every time I'd go over it would end up in my hands and I could never seem to put it down. Mark needed to downsize to finance a beautiful Telecaster so I gladly took it off his hands. My brain says it's a beater and I should leave it alone, but my heart wants to make all kinds of mods to it to truly make it my own. Update: Of course I couldn't leave it alone and I ended up getting a red tortoiseshell pickguard and another DiMarziop Super Distortion pickup for the bridge.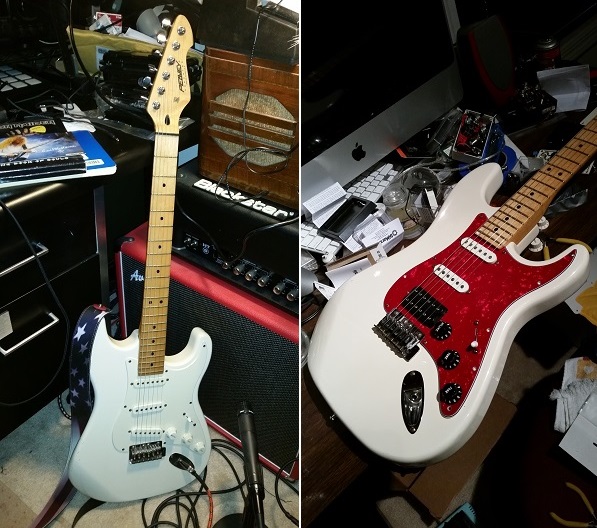 2021 Kramer Vanguard (3/1/2021)
Well, I went over 5 years without buying another guitar, but I just couldn't resist this. I literally had a dream many years ago about finding a red Flying V with an ebony fretboard and white binding in a guitar shop and I've been looking for an actual guitar like it ever since. I came close a few times, but there was always something I didn't like the ones I found.
This one however checks all my boxes. Hard tail, 24 frets, Mahogany body, and nice EMG pickups. Even the fret markers are a little different without being tacky.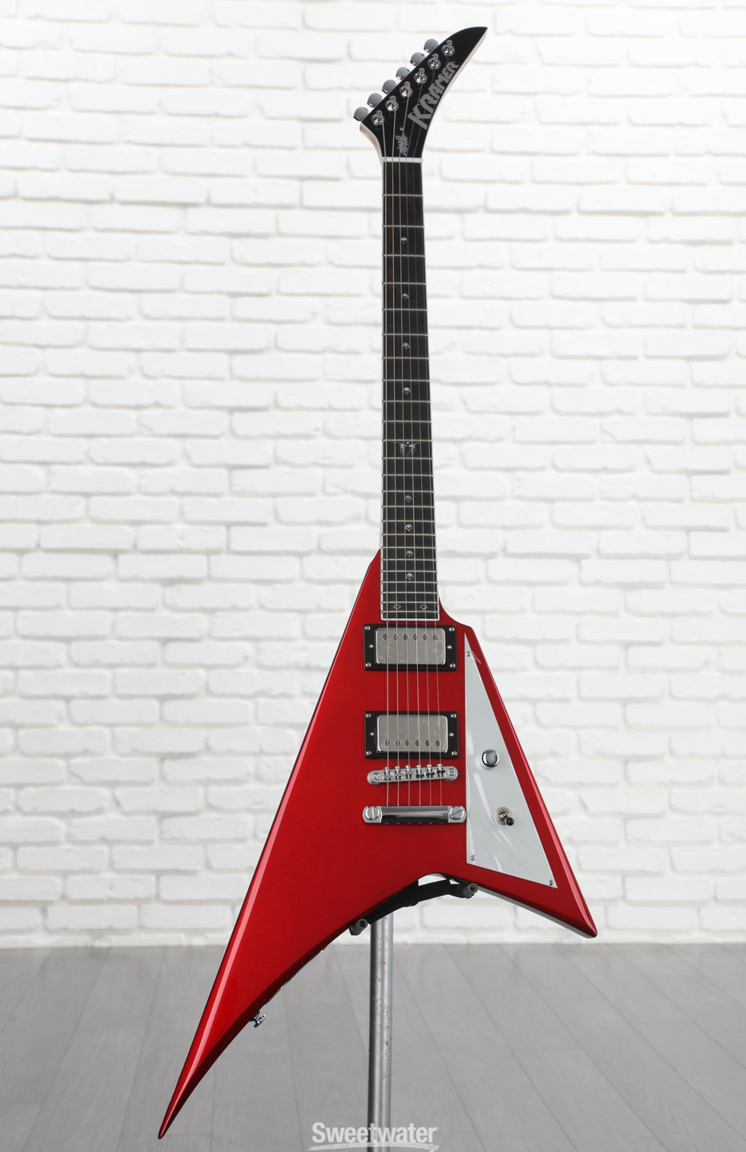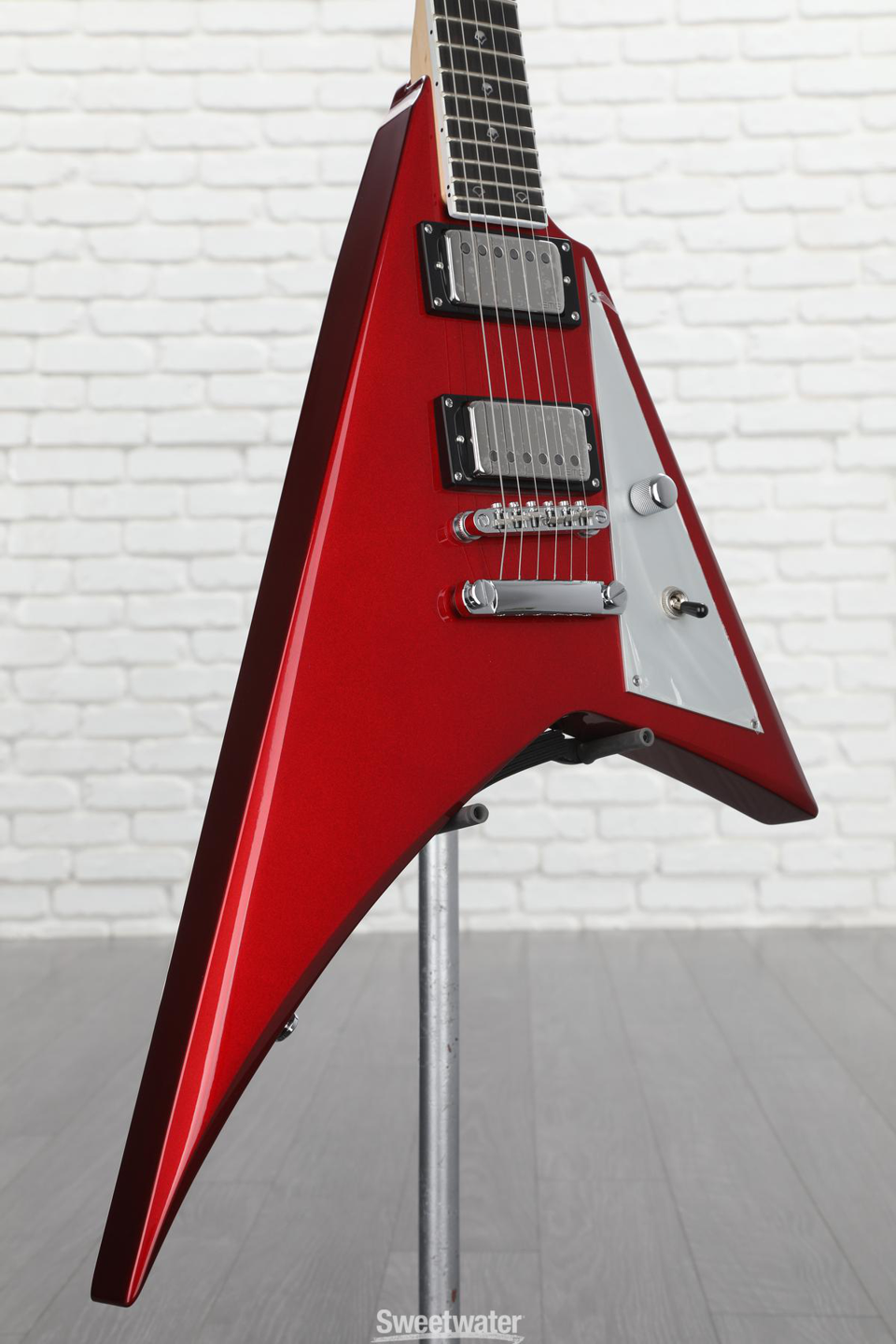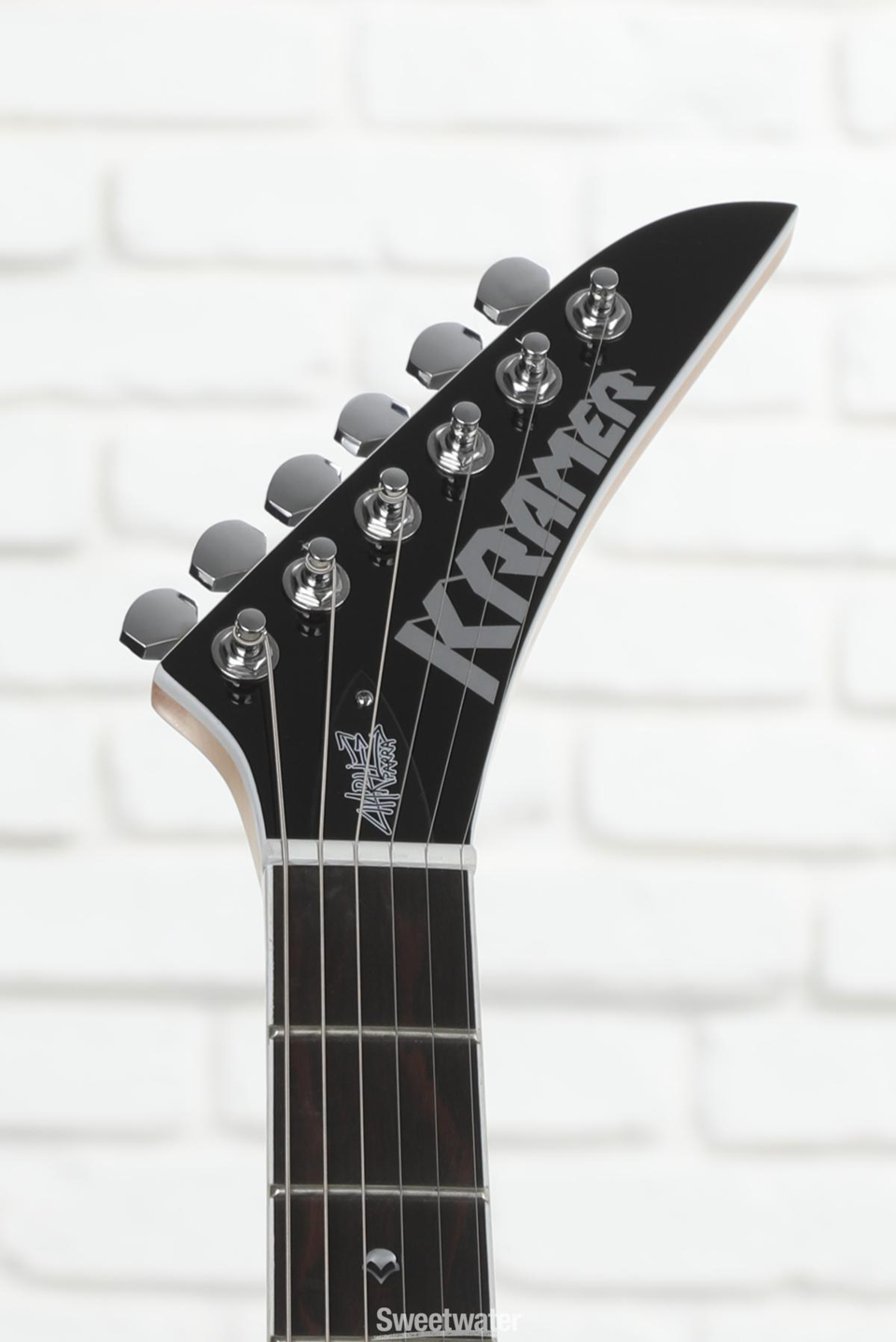 Amps
My first amp wasn't an amp. ;-) As I was starting out I thought it made more sense to get an interface for my computer that would give me lots of tones to choose from. I ended up buying a
Line 6 gearBox "Gold Bundle"
. This is simply a small box that connects to your computer. You plug your guitar into it and run a line out to your mixing board. You then use your computer to select from many different amp models and speaker cabinets and you also have a virtual pedal board where you can turn on all kinds of effects like chorus, flanger, phaser, tremolo, echo, delay, fuzz, distortion, etc. Initially I was a little underwhelmed with the sound quality, but I've since learned that you just need to have it turned up LOUD to really appreciate it.
My next amp was a real amp, a
Roland Cube-20X
. This is a great little practice amp that puts out a lot of sound from a small box and it's got several effects built in. It has a clean and an overdriven channel. It was a scratch-and-dent from Musician's Friend, but I can't find a thing wrong with it.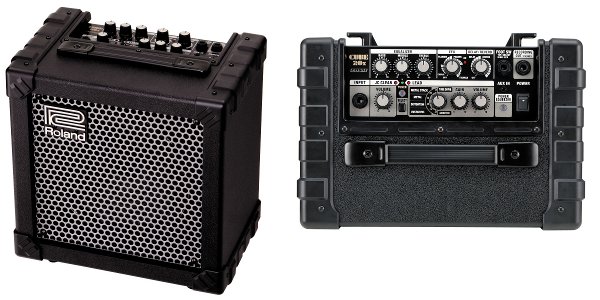 My friend Dean told me about a guy named Terry Dayton that made custom tube amps. I looked at his site
D-Lab Amps
and was impressed with his work. I ended up buying an antique wooden radio off of ebay and then I removed the chassis from it and sent it to Terry. He removed the original top then rebuilt one of his Mojo amps in its place and sent it back to me. Roy helped me get it mounted along with a 5" Jensen speaker inside the radio. My friend Bryan gave me an old Ampeg amp he's had for years that doesn't work very well. I connected the 12" Celestion speaker from it to the tube amp Terry built and it sounds amazing!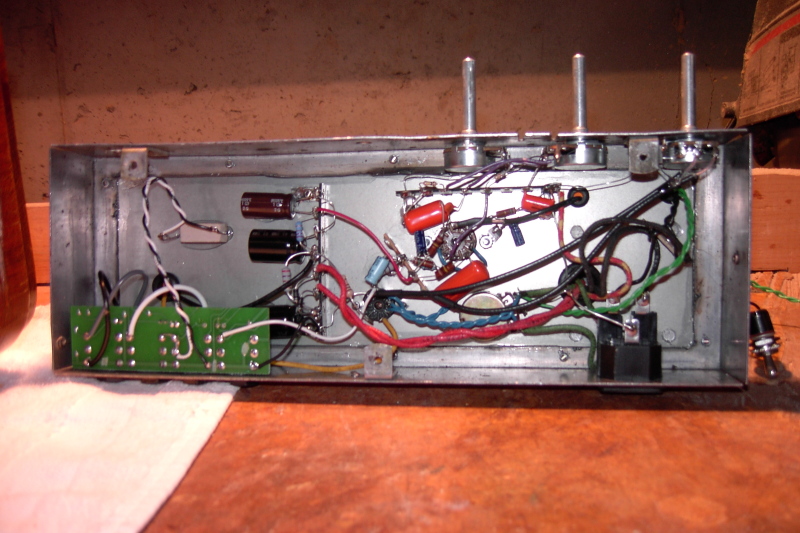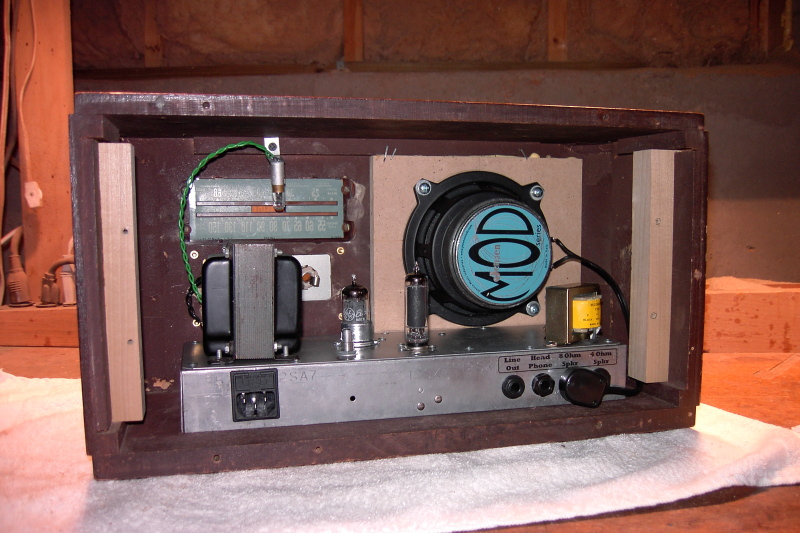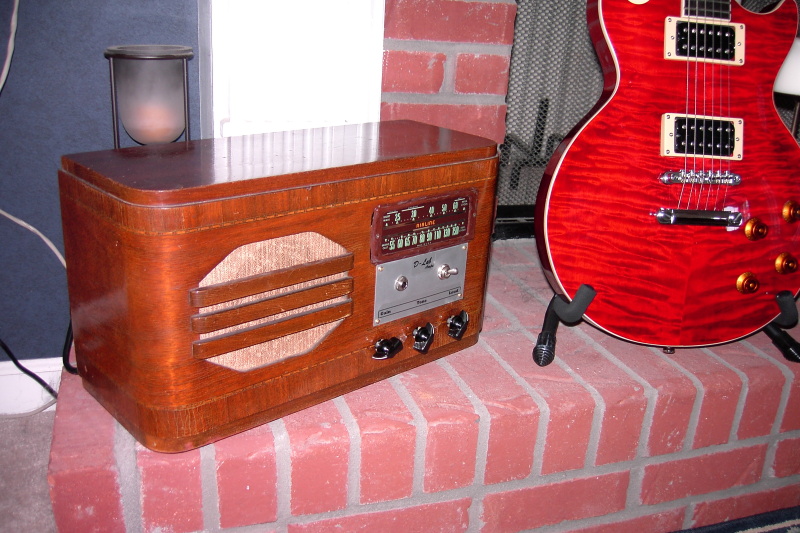 5/3/2009 :: Score! I found a killer deal on eBay for one of the greatest amps ever made. It's a Roland JC-120 Jazz Chorus. It has the brightest cleanest tone you'll ever hear. The distortion that it has isn't all that great, but this amp was designed to work with pedals so I can easily add distortion that way. You can make a clean amp distort, but you can't make a distorted amp sound clean. ;-) Many thanks to Mark for making this amp available.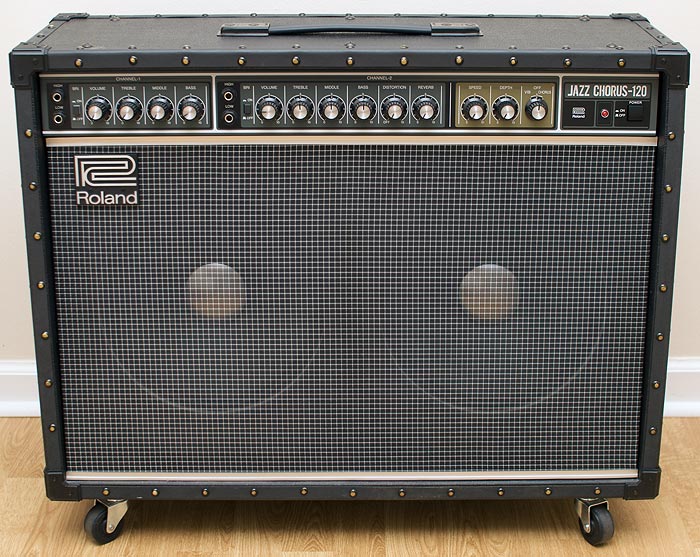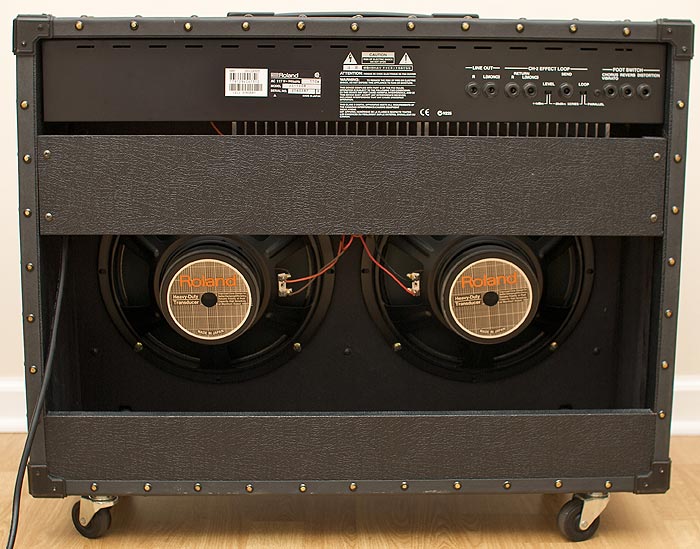 5/15/2010 - Blackstar HT-5
Great sounding little amp that's perfect for bedroom practice. It's easy to get the tubes to break up at a reasonable volume.
7/13/2010 - Vox Valvetronix VT30 30W 1x10 I just wanted something with a little more umph than the Roland Cube 20X that was also still portable enough to take to band. I had a 20% coupon from Musician's Friend that was burning a hole in my pocket so I thought I'd give this amp a try. It's not a bad amp, but it also doesn't blow me away. It has some nice clean tones so I'm thinking I may just leave it at band (if Dean's wife will allow more gear in the basement) and then just carry a small pedal board back and forth to band. I'll use one of my MagicStomp pedals for amp modelling and then just place a tuner and the Route 66 pedal in front of it.
Marshall JVM210C
Marshall. Enough said.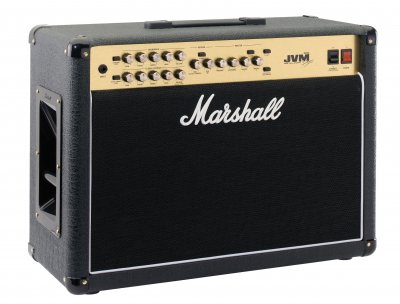 Peavey Bandit
Even though it's solid state, this thing rocks so hard. Absolutely amazing tone.
(1995-1999) The Transtube Series Bandit 112 formally introduced Peavey's proprietary "Transtube" technology that allows a solid state amplifier to perform more like a vacuum tube amplifier. Central to the Transtube concept is a patented "power brake" that allows the user to control the amount of power required for dynamic range compression from the power amp, from 100% all the way down to 10%, thus enabling the amplifier to acheive power amp compression without running at full volume. The Transtube Series Bandit 112 was made in Meridian MS USA and came stock with the Sheffield 1230 speaker. Notably, it was also the first Bandit to have an external speaker jack, allowing external speakers to be run instead of or in parallel with the internal speaker. Running into 8 ohms, power is still 80 watts RMS, but running into 4 ohms (the equivalent of using the internal 8 ohm speaker together with an 8 ohm extension speaker) the power is increased to 100 watts RMS. Due to the horizontal strip of chrome underneath the controls, this version is commonly referred to as the "Silver Stripe" Bandit, but due to the black color and square shape, it is sometimes called the "Blackbox" Bandit (not to be confused with "Blackface", which refers to F*nder products and/or performances in the style of Al Jolson...)
Manual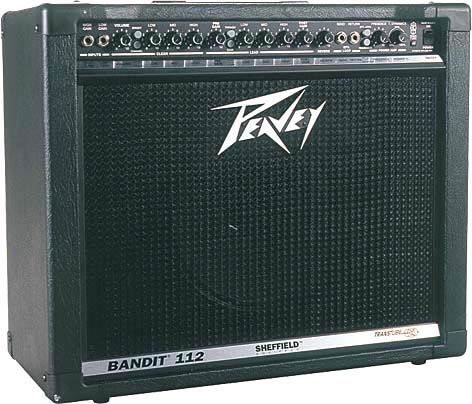 Mesa Boogie Mini Rectifier
This thing is a beast! Don't let the small size fool you, this thing is ridiculously loud. I've got it driving two Krank 1x12 cabinets.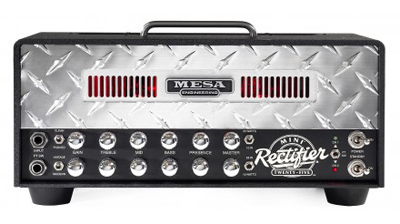 Gallien-Krueger MB210
I was borrowing a great bass rig from Roy, but he needed it back so I started shopping for a replacement. I started with this Gallien-Krueger MB210 combo amp. It pushes 300 watts into the two 10" speakers. Then when you add an extension cabinet you get another 200 watts to that speaker. I traded in the Squier Telecaster and the Schecter Damien for a SWR Son of Bertha 15" extension cabinet. This rig totally gets the job done.
Effects Pedals
I have a few effects pedals. The first one I bought was a
DigiTech RP-150
. I haven't spent a lot of time playing with this device, but I have found a few presets I like quite a bit. It's a very versatile box that can do a lot more than I'm making it do now. ;-)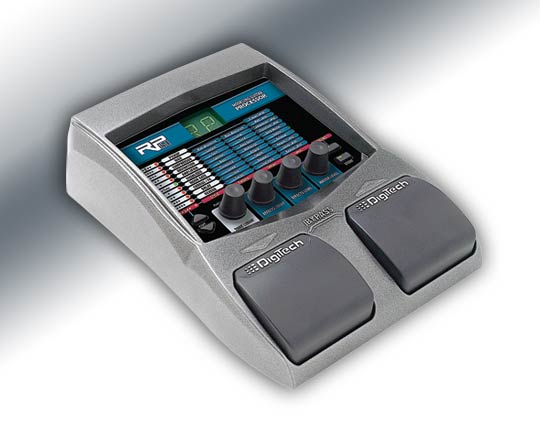 Guitar Center keeps running MXR "Classic Distortion" pedals on sale for $29.95 and I managed to snag the last one in stock right before Thanksgiving. It doesn't sound all that good when connected to the Roland amp, probably because it's a solid state amp, but it sounds great when used with the tube amp. For $29.95 it can't be beat!
My most recent purchase was for a
Yamaha MagicStomp
pedal. This is similar to the DigiTech device in that it has hundreds of presets you can switch between. My plan is to create a nice clean tone and make it Preset #3. Then Preset 1 and Preset 2 can be my overdriven distorted tones, and Preset 4 and Preset 5 can be a shimmering chorus and maybe a flanger or phaser.
Update - 5/3/2009
I've added quite a few pedals to my collection. In addition to grabbing a second MagicStomp I've added a Scott Ian Black 13 pedal (I love this thing!!! If you play metal this is all you'll ever need.), a MXR Chorus pedal, a MXR Phase 90 pedal, a MXR Hendrix Wah pedal, a BOSS Tuner pedal, and a Danelectro Fish and Chips EQ.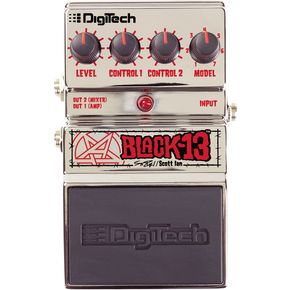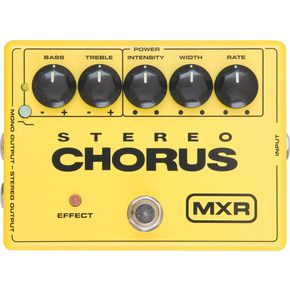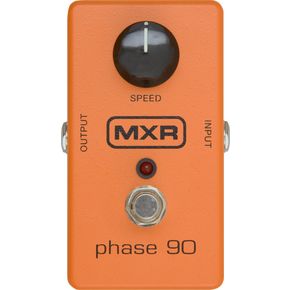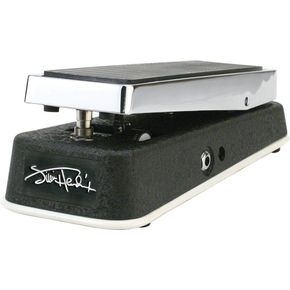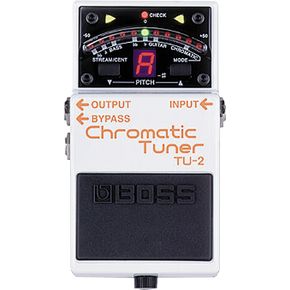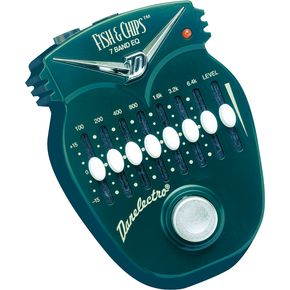 Update - 10/30/2009
Just more pedals I've added.
T-Rex Engineering Michael Angelo Overdrive Guitar Pedal
Boss BD-2 Blues Driver Pedal (Sold)
MXR M-109 6-Band Graphic EQ
Line 6 ToneCore Liqua Flange Guitar Effects Pedal (Sold)
Line 6 ToneCore CrunchTone Guitar Effects Pedal (Sold)
HardWire RV-7 Stereo Reverb
HardWire TL-2 Metal Distortion
HardWire SC-2 Valve Distortion
HardWire HT-2 Chromatic Tuner