We now own land in Sandpoint, Idaho!
Other Houses
Back in January we visited Sandpoint to start looking at houses, and to see just how cold it is in the winter. The weather, even with fresh snowfall every day, was actually still quite nice.
There were many nice houses we saw, but none of them were just perfect. After we got home we kept looking at new listings online and found one house that seemed very promising. There wasn't a piece of sheetrock in the entire house. There was wood everywhere! It had a nice living room with a beautiful view of the mountains and lake, and it even had a sauna and hottub. It had a loft, but it was pretty small. It said there was an unfinished basement, but it was really more of a crawlspace. While not perfect it still seemed pretty nice. But...we waited too long and it was sold.
We planned another trip to Sandpoint (and somehow missed the fair and demolition derby, as well as the beer festival) and arrived with a list of houses and property we wanted to see.
There was a house we liked a lot that looked fantastic online. When we arrived though all the furniture was gone and the yard was overgrown. The exterior was in bad need of repair and the floorboards in the kitchen were buckled from water damage.
There was another one we really liked on a very large parcel of land we called the Star house, because it had a big red star over the front door. Stacey's parents noticed that in the pictures the floor wasn't carpet or anything, but rather just bare plywood. Then we noticed in other pictures that the sheetrock wasn't taped and sanded yet, and the nails were visible. The owners hadn't finished the house yet, and the layout was very wasteful. Too much open and unusable space. It was also very overpriced.
There was an honest to goodness cabin that Stacey was in love with. When we arrived I started walking the property and was very happy to see many fenced in areas among thick woods as well as several outbuildings. I eventually made my way back to the house, stepped inside, and was overwhelmed by the smell. We couldn't ever identify what it was, but something was not right! LOL The carpets were stained, possibly with mold, and there was a black substance around all of the air vents. Could have been mold or soot, but whatever it was, it wasn't right. It had a basement which seemed like a nice feature, but there were too many protrusions from the ceiling. I know I would keep hitting my head on the low ceilings.
Other Land
There was a listing for two connected parcels totalling 20 acres near the Pack River and a golf course. It seemed perfect until Stacey found a topo map. It was literally up the side of a mountain.
We drove out to a few other listings. One had a locked gate and numerous "Beware of Dog" signs. Another one had a sign that literally said "Stay the F--- Away". The final parcel we visited actually seemed pretty nice and already had a decent sized clearing, but it was pretty far outside of town.
We Found It
Heather started looking around a different real estate site and found a parcel just up the street from her house. It was smaller than what we were looking for, but the location was very desirable, so we thought we'd check it out. When we turned onto the road we realized it was the same road as one of the houses we looked at in January. And then we realized it was the lot next to the all wooden house we liked so much! At one point this parcel was attached to that house, but I guess the new owners didn't want the extra land.
When you get to the end of the road it kind of makes a "T" and to the left is the wooden house, and to the right is our driveway. Well, it's a grassy road with a few ruts in it where a truck had driven years ago and now it's all overgrown. We figured that was the southern edge of the property and started exploring the area to the north. The southern part seemed to drop off and wouldn't be a good place to build anyway.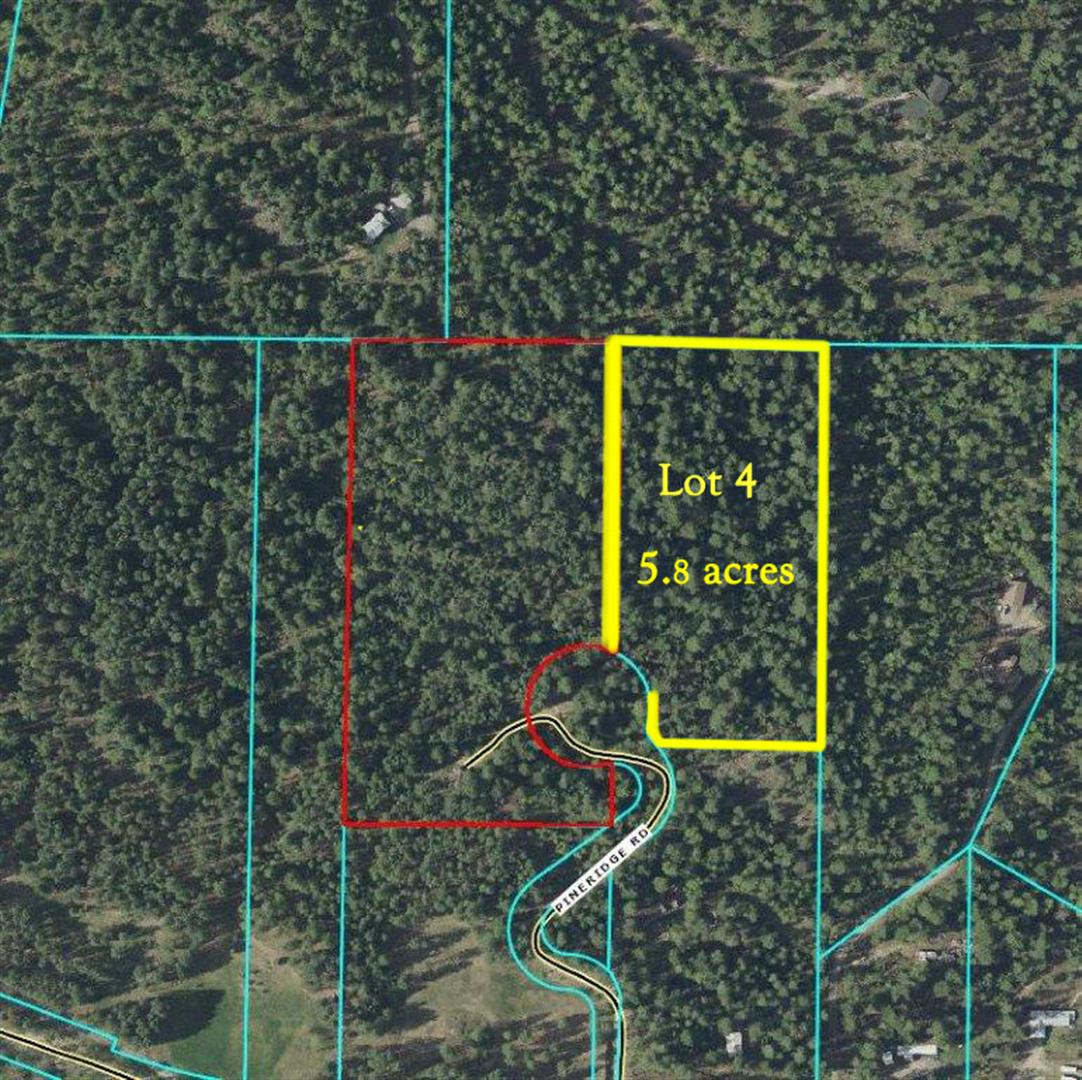 Map of the property.
The land is a little on the steep side, but not too bad. There are lots of very cool looking rock outcroppings, including a really big rock that would be fun to climb on. While we explored this property we were joined by a really sweet dog that likely lived in the wooden house. It reminded me of Skyrim the way he'd walk around wherever we went. This property already had a pedestal with power and phone, and was in such a nice location we decided to ask our real estate agent for more information. She arranged a meeting with the seller which was great because he'd be able to show us the property markers.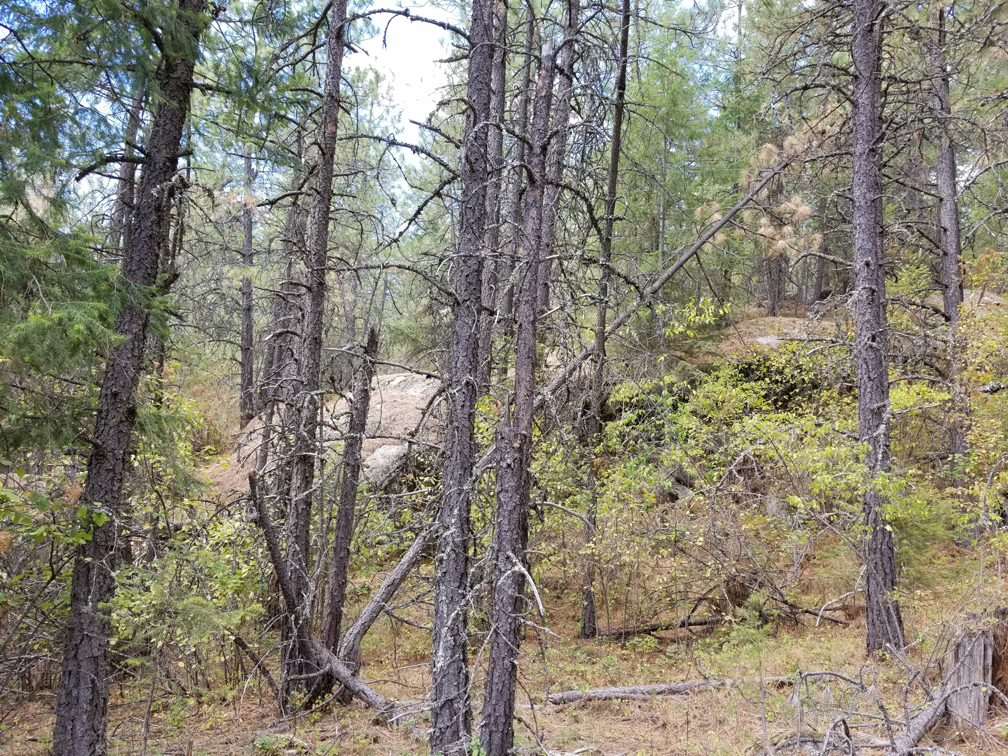 Rocky areas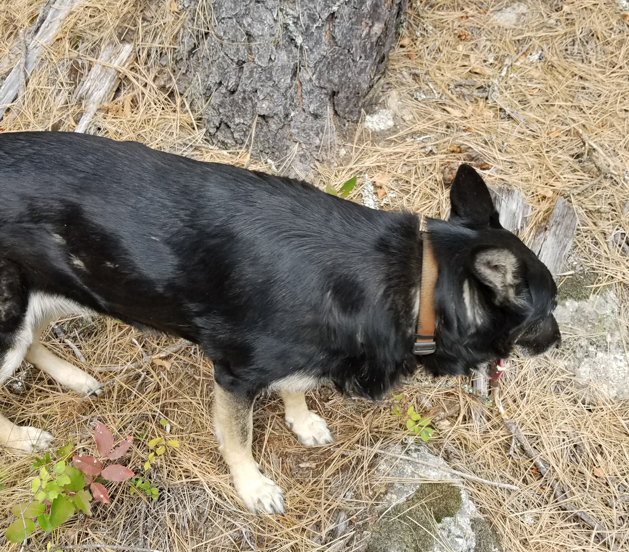 Our guide dog for the day
The next day we met the owner on site. We're all ready to start walking into the woods, but he says he's going to show us where the property starts, and he starts walking back down the road. We are very confused at this point. He then says to look over into the woods at the giant cliff. How did we miss this before? There's this giant rock face amongst the thick trees. The owner's friend even says there's a small cave in it. Wow!
We walk back up the road and start down the old trail. He turns to the right, to the part we thought dropped off, and it quickly levels back out and there are trails that lead us to the top of that cliff. He mentions that he's had this land for 30 years and loves the view up here and comes here to meditate. We can certainly understand why! The view was simply gorgeous, and that's without any trees removed. He points out how this would be an ideal spot for a house and that just removing a few trees would allow a breathtaking view of the lake and surrounding mountains. He also mentions how private the area is and that "you won't see anyone, and no one will see you." That's exactly what we want.
We then walk to the opposite corner and this made us both realize that 5.8 acres is quite a lot! LOL There is so much usable land on this lot, but if you leave it undisturbed you have an amazing amount of privacy. All the surrounding houses are already built, and the land above us is just the top of the mountain so no one can build up there anyway. The area we explored the day before with the dog was either the other person's land, or just unclaimed land that's part of the mountain top.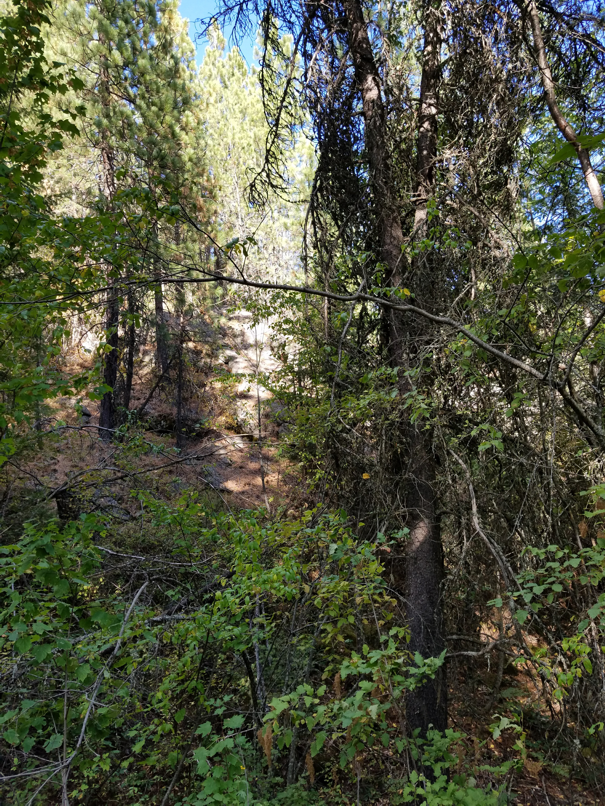 On the road looking at the cliff from below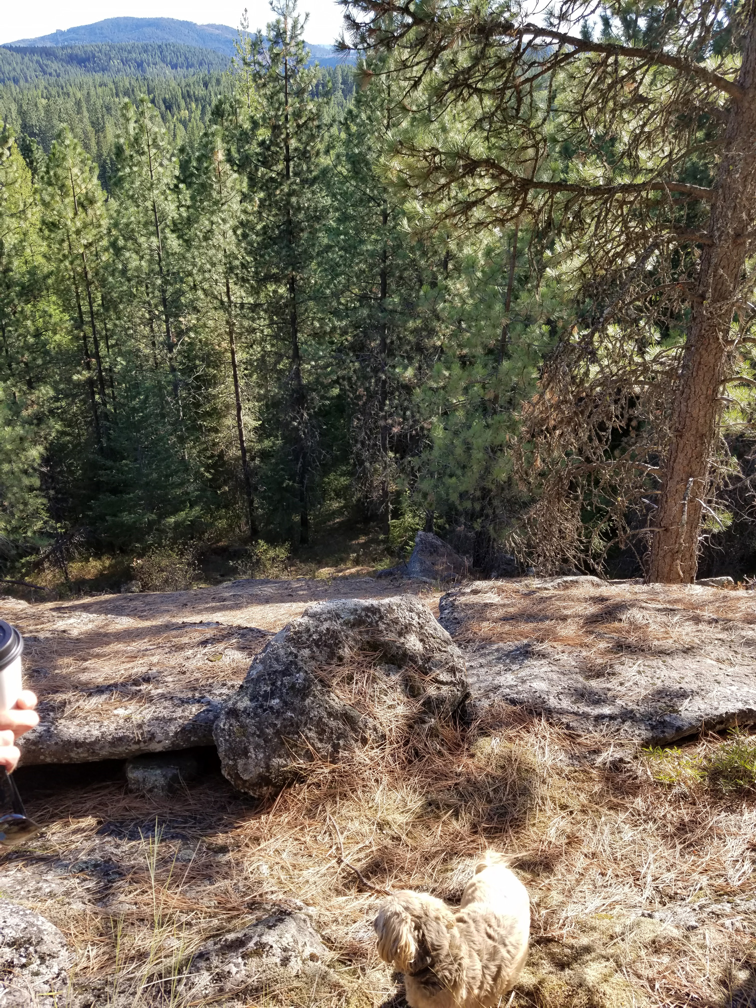 The top part of the cliff, looking down
We had tendered an offer before seeing the land, which of course was less than the asking price. Once we saw the land in person though we both decided we'd pay the full price. LOL We were told we wouldn't know if he accepted the offer for at least a day or two, but before we even made it down the main road we already heard from his agent stating that he accepted the offer!
Incidentally, we went by the gas company earlier that day and were told a natural gas line already runs along the road, so we can get gas and not have to deal with a propane tank. The cable company runs at least partially up Baldy Mounty Rd, which we're off of, so there's even a chance we can get high speed Internet. Regardless, I do get a pretty strong signal with Verizon on the property. We met with a local well driller and he's drilled several wells in the area, and the owner stated that a natural spring exists on the properly. Water shouldn't be a problem. We had a perc test performed as well, and that passed. We're just waiting on the title search to be completed, and then it will all officially be ours.
The House
If I wasn't a programmer I would have been an architect. I took mechanical and architectural drafting in high school and really enjoyed designing things. I have several ideas in my head about how I'd like the house to look. I then went online and found a floor plan that's almost exactly what we want. Stacey told me to dial back my grand designs, yet when she saw the floorplan she was telling me to make the kitchen bigger, stretch out this room, add another closet here and here, make sure there's a three car garage....LOL. I'll starting designing our floorplan in some software I've got and I'll share those images once they're ready.